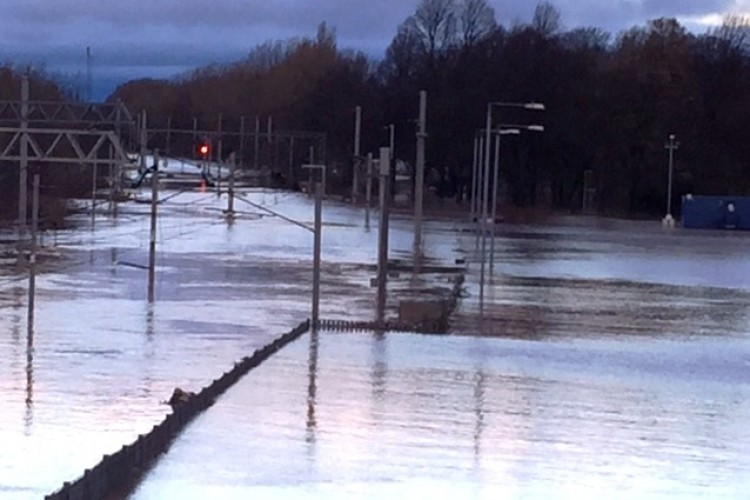 Cumbria and Lancashire appear to have borne the brunt of the storms, with road and rail links collapsing.
Carlisle was flooded once again. After the death of three people there in floods in January 2005, £38m was spent on flood defences in the town. The scheme was completed in 2010. Questions are inevitably being asked about how the new defences could be breached so soon.
Network Rail said that the West Coast main line north of Carlisle will be closed for several days after eight feet of water flooded the railway. Elsewhere, such as in Patterdale, Keswick and Braithwaite, roads and bridges have been washed away.
Network Rail said that the deepest water, around two miles north of Carlisle station, was not expected to clear until Tuesday. Its  'orange army' has been working 24 hours a day to clear trees, landslips and repair flood damage to keep as much as possible of the railway open. A full assessment of the damage will take place as soon as the water recedes and everything done to reopen the railway as quickly as possible, Network Rail said.
Route managing director Martin Frobisher,: "The unprecedented amount of rainfall and high winds have taken a significant toll on the railway and we are working round the clock to keep as much of the network open and repair the damage that has been caused.


"North of Carlisle station we have to wait for eight feet of water to recede before we can carry out extensive safety checks and repairs – including rebuilding a host of complex electrical and signalling equipment which is currently underwater. This, coupled with dozens of other sites which have been flooded or damaged, means we have a lot of work to do to ensure the railway is safe and able to be used.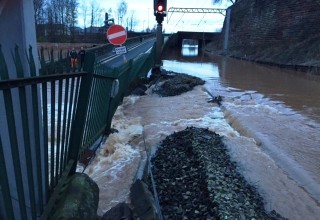 Environment secretary Liz Truss told Parliament that by Sunday morning more than 3,500 properties had flooded across the country with the majority in Cumbria. In Carlisle more than 2,000 properties flooded. More than 600 properties flooded in both Kendal and Keswick with more than 200 in Appleby. Flooding was also seen in Northumberland with more than 60 properties flooded at Hexham. 55,000 properties lost power in Lancaster following the flooding of the electricity substation. There were also 'a number' of weather related fatalities.
The secretary of state said: "Since 2009 we have invested £45m in new defences in Cumbria. But we will need to learn lessons and reflect on what we can learn from this extreme weather event. In the last Parliament there was a real terms increase in the investment in flood defences and in this Parliament there will be another real terms increase in spending. We are investing £2.3bn in 1500 schemes throughout the country that will better protect 300,000 homes and the spending rReview has also confirmed that we're protecting flood maintenance spending throughout this Parliament as well as capital spending."
Got a story? Email news@theconstructionindex.co.uk