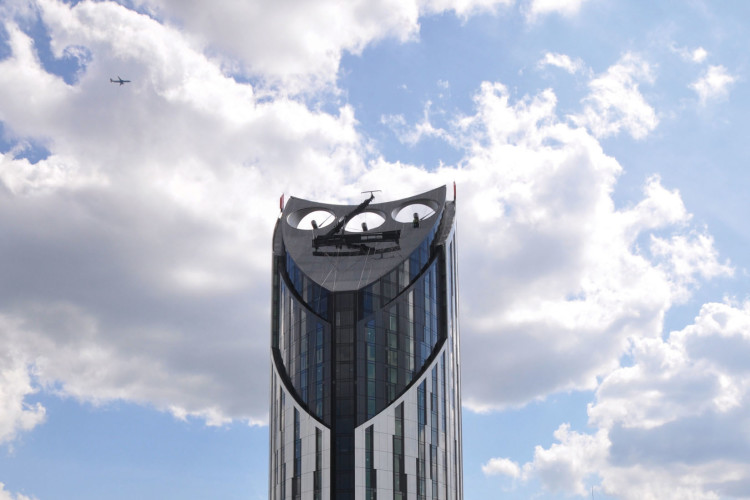 Based at Elephant & Castle in south-east London, the 36,600m2 development consists of a 43-storey (147.9m-high) tower with three integrated 18kW 9m-diameter wind turbines and an adjacent five-storey pavilion building.
In-situ concrete was chosen for the Strata's frame. The structure makes use of 200mm-thick post-tensioned concrete floor slabs supported on an irregular arrangement of 300mm-wide high-strength blade columns. Post-tensioning reduces the slab thickness, saving over 2000m3 of concrete and 1800 tonnes of CO2.
It earned high praise from The Concrete Society's judging panel, "The use of in-situ concrete was fundamental to the design of the building. [It is] a considerable feat of construction on this restricted site and a very good use of concrete as a structural material. The building has already become a striking landmark."
Chris Playle, director of WSP UK, consulting engineer for Strata said, "It is fantastic receiving this award and a great tribute to all who worked on it. From the start there seemed to be an opportunity to do something special and the great team spirit throughout contributed a lot to achieving this."
Ian Bogle, director of Strata architect BFLS, said, "It is great to see Strata sweep the boards at such a prestigious award and against such tough competition."
Over 300 members, guests, sponsors and industry representatives packed into the London Marriott Grosvenor Square on 12 November for the Annual Concrete Society Awards. The Society's Awards programme aims to recognise excellence in the use of concrete. Now in its 42nd year, the Awards included two main categories – Building and Civil Engineering.
Building
This year saw joint winners of the Building Category: Medieval and Renaissance Galleries at the Victoria and Albert Museum in London; and the Newton and Arkwright 'Link' Building, Nottingham Trent University.
Medieval and Renaissance Galleries
The Perimeter Galleries, in the south-east quarter of the Victoria and Albert Museum, were isolated from the rest of the building with access severely compromised by changes in level. To address this, by removing some existing stairs, the developer has been able to occupy the interstitial spaces between the various buildings, to create a new circulation hub and new Daylit Gallery. The choice of carefully crafted white concrete reflects the museum's ambition to promote elegant design and considered craftsmanship – concrete as carefully considered and beautiful as the marble staircase being removed.
Newton and Arkwright 'Link' Building
The Grade II listed Newton and Arkwright buildings are essentially different in appearance and structure. The Newton Building is a steel-framed tower block clad with almost-white stone and built in the 1950s. The Arkwright building is approximately 100 years older and is of Victorian appearance, with an ornate masonry and fair-faced brickwork façade. Linking these individually distinctive structures together required a medium that would transcend from one to the other seamlessly. An exposed as-struck in-situ concrete frame fitted all the criteria needed to produce this link.
Civil Engineering
East London Line - East to South-East London was the 2010 Civil Engineering Category winner. This £700 million north–south rail link supports major programmes to regenerate east London and will ensure real benefits to local people through construction and a longer-term legacy. A series of approximately 30 concretes were developed encompassing diverse products such as foamed concrete, water-tight concrete, lightweight aggregate concrete, steel-fibre-reinforced concrete and concrete for the Thames tunnel track slab capable of being pumped for distances of up to 1500 linear metres to cope with limited access points.
Two Supporting Industry awards, given by MPA-British Ready-mixed Concrete Association and the Post-Tensioning Association, were also presented at The Concrete Society Awards Dinner.
General Sir Mike Jackson GCB presented the awards and provided the after dinner speech. Generous donations from dinner guests also helped raise £2000 for The Concrete Society's 2011 charity, The Lighthouse Club.
Got a story? Email news@theconstructionindex.co.uk