The latest is a 40t double girder Goliath crane on Oxford Street, which is lifting spoil skips and lowering tunnel segments and other pre-cast elements for the Crossrail tunnel and new Tottenham Court Road Western Ticket Hall.
The Oxford Street crane is a double girder box beam design with twin custom built TVX hoists, each capable of lifting 20t.  Twin hoists give maximum flexibility as they can be used singly or in tandem depending on the weight and geometry of the load to be moved.
The crane has a total height of lift of 37m with a maximum normal speed of 15m per minute and a minimum 1.5m/m.  Hoist speed can be boosted to 23m/m for light loads of up to 2t.  A cab located on the crane bridge gives the driver clear visibility of the site.
Large ground beams, 1.5m deep, have been cast 31m apart on which the rails for the Goliath crane legs run.  The crane spans the beams and has an additional 5.1m cantilever at one end so that spoil skips can be offloaded onto awaiting trucks that are outside the protected excavation area.  The rectangular frame legs of the Goliath crane at the cantilever end have been designed to permit the passage of the skips between them. In addition to shielding the excavation shaft, the ground beams protect the crane from any minor ground movement due to excavation.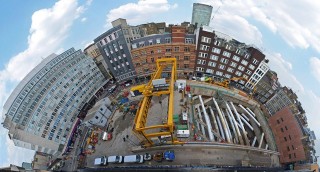 Elsewhere on the Crossrail development more cranes from Street are in use.  Six 10t single girder cranes are used in the tunnel segment casting shops for de-moulding and transportation of the cast segments.  In the curing yards three rail running Goliath cranes of a fully weatherproof specification are used for placement of the tunnel segments and subsequent retrieval after they have matured to full strength.
Street Crane's contract is with BFK, the main contractor for this western stage of tunnelling work from Royal Oak to Farringdon.  BFK is a joint venture between BAM Nuttall, Ferrovial Agroman and Kier Construction. 
Got a story? Email news@theconstructionindex.co.uk