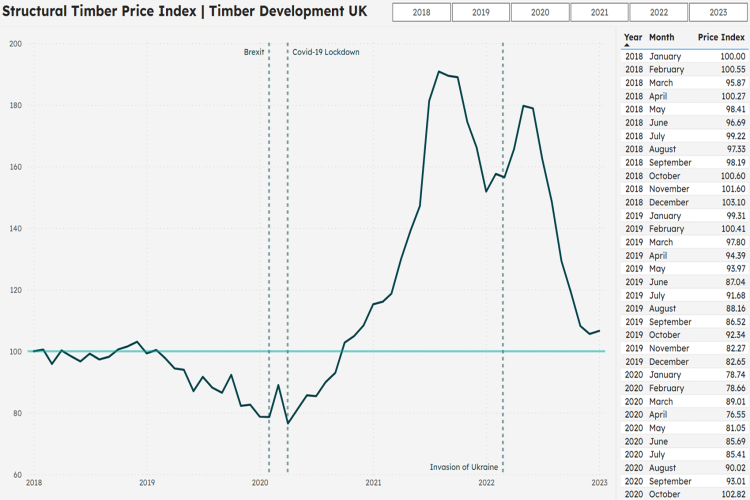 The Structural Timber Price Index displays the monthly price of structural timber stretching back to 2018, giving users the ability to compare today's timber prices to those seen five years ago. The figures seen in 2018 were pre-Brexit, pre-Covid and pre-War in Ukraine, making them arguably the most recent 'normal' year we have experienced and therefore a sensible point for comparison.
TDUK head of technical and trade policy Nick Boulton explained: "The TDUK Structural Timber Price Index is a powerful new tool for the construction industry to understand the state of the timber market in the UK.
"As you can see from this first iteration, now online for public use, the price of structural timber has been on a rollercoaster journey over the past three years – in between major events like Brexit, Covid, and the invasion of Ukraine.
"Timber is a globally traded commodity and the UK is a major importer of structural timbers, so large geopolitical events can ripple across the trade. The abnormal structural timber prices we have seen over the past three years reflect the abnormal market we have all lived through.

"However, the three most recent months shown on the index – from November 2022 to January 2023 – are among the most stable price periods we've seen since 2019 – which likely reflects the balance between supply, demand, and price.
"While no one can predict the future, the commodity market for structural timbers has historically been a steady, and dependable one. We will be watching the market carefully to see whether this trend will be re-established."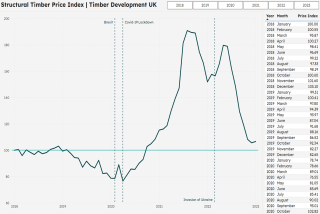 Got a story? Email news@theconstructionindex.co.uk