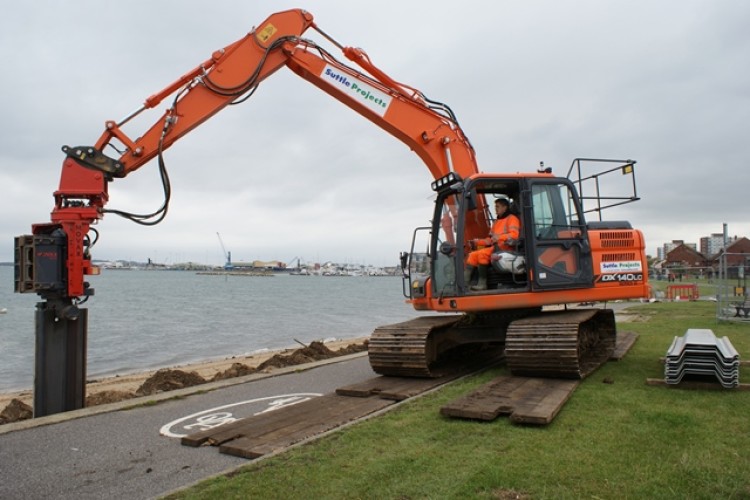 Suttles' new 14-tonne Doosan DX140LC-3 crawler excavator, equipped with a Movax SG-30 side-grip piling hammer, has just completed a sea defence project in Poole Harbour for Poole Borough Council
Managing director Joe Paine said: "The new DX140LC-3 excavator complements the larger Doosan DX255LC-3 25-tonne machine we purchased from Kellands at the end of 2013 and provides an extension to our sheet-piling capability for projects such as that in Poole, where a smaller machine is required. 
"With the new 14-tonner in our fleet, we can carry out more of the intricate sheet piling jobs that are increasingly being required in and around small rivers and railway sites across the country."
The sea wall by Baiter Park car park in Poole needed maintenance work after storms had stripped sand from the beach causing movement in the wall's foundations and damage to the footpath/cycleway behind.  After repairing the footpath, the sand that had been deposited further down the beach was relocated to the bottom of the seawall to reduce the impact of further tidal action.
The new DX140LC-3 excavator then installed a line of sheet piles in front of the existing wall to protect the foundations from underscouring by the sea (pictured below). 
The Suttle family has been associated with quarrying and aggregates in Dorset for more than 70 years. Suttle Projects was set up in 2008 to take on civil engineering and groundworks jobs.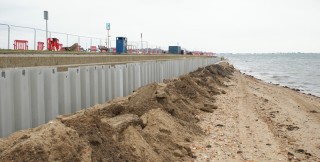 Got a story? Email news@theconstructionindex.co.uk