Balfour Beatty, contractor for Highways England, has reported 23 separate incidents in the past two months where road users have driven into its roadworks at the Switch Island junction.
The £3m improvement project is designed to improve safety at one of England's busiest motorway junctions the junction, where the M57, M58 and three A roads all join together.
However, the lives of road workers are being put at risk by drivers ignoring overnight closures. Incidents have included: a lorry driver who travelled through the construction area without stopping, forcing road workers to scurry out of the way; a motorcyclist who swerved around a worker when he tried to stop the driver to explain the dangers; and the driver of a 4x4 who swore at a worker trying to offer advice before driving away.
Karl Sandiford, 48 from Bolton, has worked on the motorways for 18 years. The married father-of-one is a site supervisor for Balfour Beatty Mott MacDonald JV and is currently working nights at Switch Island. He said: "We get frequent incidents where drivers break through our road closures. Most are people who simply do not care and ignore the cones and signs that are installed to protect us. We have enough to think about while getting the job done. What I and everyone else working, not just on this site but anywhere on the motorway network, can do without is the chance that we could get run over.
"We've all got families and it only takes a second for someone to be hit by a vehicle that shouldn't be there, and then that's that person's life and their family's lives ruined."
According to Highways England data, there are an average of nearly 300 incidents a week of road users driving into coned-off construction areas on England's 4,300 miles of motorways and major A roads.


Phil Tyrrell, Highways England project manager for the Switch Island scheme, said: "This is a complex engineering scheme which will result in much better journeys through the junction, and our road workers should be able to concentrate on the job they're doing.
 "We've deliberately planned the project so that sections of the junction are only closed overnight when traffic levels are much lower, and clearly-signed diversions are in place to help drivers get to their destinations.
"Drivers who selfishly and illegally ignore the closures to force their way through are putting both their lives and those of our road workers at risk – all to save a few minutes on their journeys."
The Switch Island improvement scheme includes changes to the road layout and lane markings, new barriers between carriageways, coloured high friction surfaces, better signs and a new 400-metre shared cycle path.
Airport-runway-style LED lights are also being installed in the road surface which will light up when traffic lights turn green so drivers can clearly see which lane they should follow.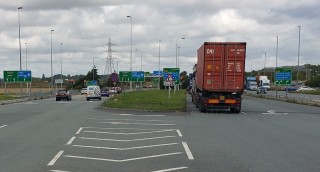 Got a story? Email news@theconstructionindex.co.uk