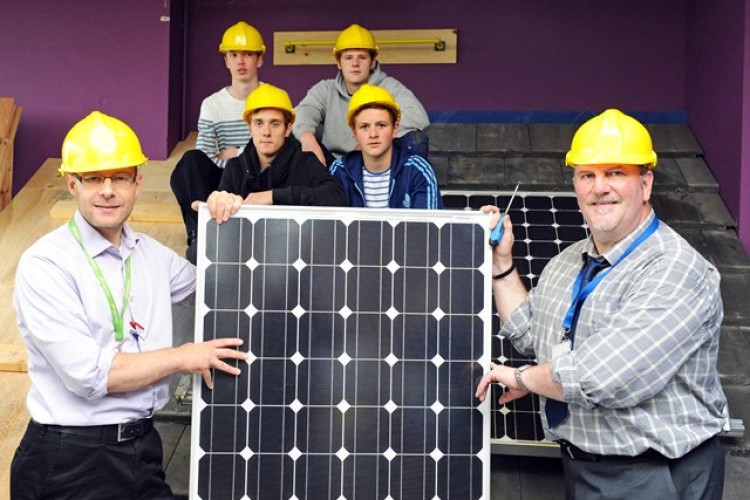 The college offers courses related to renewable energy and is seeking to become self-sufficient.
The Solar Roof Project, thought to be the solar project in the education sector,has been developed in partnership with Heriot-Watt University and iPower.
Sundog Energy, which recently installed a multi million pound solar roof at London's King Cross Station, has been appointed to do the first phase, which will see the installation of 200 solar panels generating 50kw per hour.
College principal Miles Dibsdall said: "We have a strong commitment to developing and strengthening our green credentials and the installation of the solar panel roof, with the other technologies we are planning, is a major endorsement of this pledge. 
"It will provide us with a ground-breaking, living and breathing renewable energy model that will allow both students and teaching staff to upskill their learning in this field.

"In addition, not only will it help us become greener in our energy practices and allow us to become a fore-runner in the UK for energy efficient buildings, but it will also work to help reduce our energy costs, making it a substantial, sustainable investment both environmentally and financially."
 The college this year launched the Edinburgh Renewable Energy Innovation Centre (ERIEC), offering training for workers in the renewable and construction industries.
The first phase of the solar roof, covering 333 square metres, represents a £90,000 investment, but has been estimated to save the college between £2,000 and £3,800 a year in electricity bills over the first 10 years.  The project should pay for itself within nine years and over 25 years is expected to generate £378,000 in savings and feed in tariff (FIT) profit.
The second phase of the project will involve further research between the college and Heriot-Watt University and ipower to look at additional ways to generate greater amounts of energy and educational co-benefits by developing different systems of micro generation such as fuel cell and solar thermal technology to match the installation of the further solar panels.
One plan being looked at is to use the energy from phase two to fuel electric cars between campuses and provide the college's hot water requirements.
Got a story? Email news@theconstructionindex.co.uk