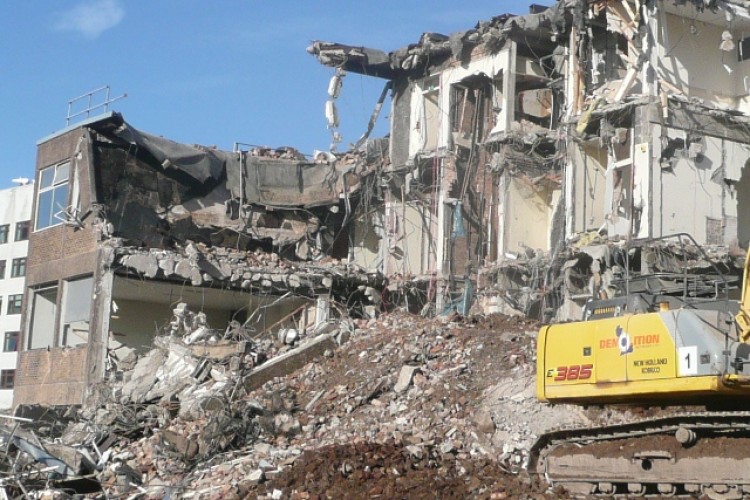 Pre-demolition and refurbishment audits have been around for a number of years, and are starting to grow in importance due to the requirements of BREEAM and client's increasing commitments to sustainability. They can also be required within the planning process.
They involve an audit of a building before it is to be demolished (or prior to a major refurbishment) to understand the types and quantities of materials that will be produced and recommendations on how these materials can be managed. They also look at what targets can be set. A site visit is usually undertaken along with the analysis of any drawings. Assessment of the viable recovery routes for materials are given including reuse (and the potential reuse value), recycling on and offsite (and the associated cost savings), energy recovery and landfill.
The audit should also consider any relevant legislation such as the requirements for Environmental Permits if waste is to be utilised onsite or any waste that may be hazardous and as such needs to be managed in accordance with hazardous waste legislation. Environmental savings could also be determined in the form of CO2e
BREEAM
BREEAM - the Building Research Establishment's Environmental Assessment Methodology – has been used on more than 200,000 buildings since it was first launched in 1990. It is the world's most widely used environmental assessment method for buildings.
A BREEAM assessment uses recognised measures of performance, which are set against established benchmarks, to evaluate a building's specification, design, construction and use. The measures used represent a broad range of categories and criteria from energy to ecology. They include aspects related to energy and water use, the internal environment (health and well-being), pollution, transport, materials, waste, ecology and management processes.
Within the waste aspect, pre-demolition audits are a requirement within the BREEAM 2011 New Construction Scheme. The audit should ascertain if refurbishment/reuse is feasible and, if not, to maximise the recovery of material from demolition for subsequent high-grade/value applications. The audit must be referenced in the Site Waste Management Plan (SWMP) and cover the identification of the key refurbishment/demolition materials and the potential applications and any related issues for the reuse and recycling of the key refurbishment and demolition materials.
Additionally a BREEAM credit can also be obtained for diverting demolition waste away from landfill (one credit for diverting 80% by volume and 90% by tonnage) and it can also be included for as part of an innovation credit (by diverting 85% by volume and 95% by tonnage). Credits are also available for using recycled aggregates in high value applications (which could arise from the demolition process). Credits for diverting demolition waste away from landfill are also available within the BREEAM 2012 scheme for domestic refurbishment.
The value of a pre-demolition audit
Questions may be asked about the value of a pre-demolition audit. It is true to say that when the demolition contractor tenders for the work then they will roughly assess the types and quantities of materials arising. The client should also confirm if there are likely to be any hazardous materials present including asbestos which needs to be handled in accordance with relevant legislation. From this information a demolition contractor can price for the works and it is common practice to discount the price in relation to any potential materials value.
However, an independent pre-demolition audit gives the client the assurance of the level of performance that can be achieved (and can push the demolition contractor in reaching it) and importantly will look at the potential for reuse and up-cycling. Whilst some demolition projects achieve high recycling rates (around 90%) many of the materials may be down-cycled, e.g. crushing bricks for recycled aggregate.

This may be a lost opportunity in terms of reducing the environmental impact and increasing cost savings. It may also give further opportunities in terms of linking with community schemes for reuse. Audits can also give an indication of costs (and savings) in relation to the waste management route used and as such the client can also use this to make an informed decision.
Important factors
BRE has identified a number of important factors that should be considered when undertaking a pre-demolition audit. This includes ensuring they are carried out as early as possible, preferably before the demolition work has been procured. The results of the audit can then be used to set targets for diverting waste from landfill within the demolition contract and the demolition works should be monitored accordingly.
The audit should also be carried out well in advance of the demolition works taking place; this allows for any time that may be needed to find homes for materials which is particular important for items suitable for salvage and reclamation and to maximise the resale value. It is also more likely that the findings of the pre-demolition audit are implemented rather than becoming a 'greenwash' exercise.
It is important to note that if materials are identified as suitable for reuse then it may require more time to deconstruct the building in order to obtain the materials in a condition fit for reuse. The audit should be considered alongside any new designs for the site in question. This allows for assessing the potential for reusing any of the materials and products arising from the demolition on the same site and/or within a new building. The findings of the audit should be included or referenced within the site waste management plan.
BRE recently undertook a pre-demolition audit for Balfour Beatty on the Kelvin Hall School site in Hull. A new, larger school building had been completed adjacent to the existing buildings that were to be demolished. The pre-demolition audit was carried out as part of the BREEAM accreditation for the project. It was estimated that the total demolition materials would amount to over 6,000 tonnes. The key demolition products identified were concrete, bricks and steel which accounted for over 95% (by weight) of the total demolition products (as shown in the chart below).
Recommendations for managing the different waste stream were provided and showed that 95% of the demolition waste could be diverted from landfill. Balfour Beatty believes that the pre-demolition audit has really helped them to build on their existing knowledge of demolition waste and the opportunities for avoidance to landfill. Working with their demolition contractor they managed to exceed the predicted 95% avoidance to landfill and actually achieved 99%.
The Olympic Park also realised high levels of recycling demolition waste (98.5%) through undertaking pre-demolition audits. However the learning legacy document (available here) recommends  the importance of ensuring that audits are extensive and that the quantities of materials are clearly defined to assist in tracking and analysis of materials and assist in higher levels of reclamation (only 0.5% was estimated to have been reused).
BRE is now looking at strengthening the pre-demolition audit process by developing a standard methodology that can be verified and assessed.
Got a story? Email news@theconstructionindex.co.uk