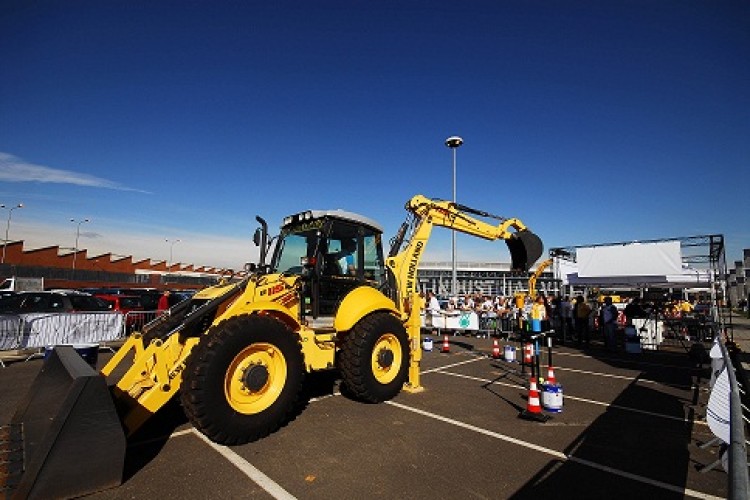 The theme for this year was fuel efficiency demonstrated by the models on hand by operators from all over Europe
Since the first qualifying rounds which took place in April operators from seven countries across Europe - France, Italy, Germany, United Kingdom, Spain, Portugal and Poland - have competed for the final 25 places.
With a focus on the power and improved fuel efficiency of the New Holland Construction equipment, the Energy Saving Grand Prix, after involving the best operators in the sector finally announced the names of the winners of the four individual competitions and the overall champion before an audience of 1,500 people.
Mark Abresch, from Frankfurt, Germany, was crowned the unrivalled champion – an extremely skilled operator who managed to be placed among the top three finalists in all four competitions. demonstrating tremendous skill and determination. Mark owns a number of Iveco lorries and recently acquired a New Holland E265B excavator that inspired him to participate in the Grand Prix.  It's no wonder he loves the Fiat Industrial brand.
Christopher Shea, from European Plant Services representing the UK, came away with a very respectable 3rd place in the Slalom & Goal event.


There were four contests of skill, which allowed the New Holland Construction machines to showcase their extreme versatility and precision: Slalom & Goal (wheel loader L218), Take the Ball (circuit B115B), Raising the Bar (W170C wheel loader) and Building the Pyramid (the E305C tracked excavator).
It was an exciting day made all the more so by its prestigious location: the newly opened Fiat Industrial Village. This is the world's first Fiat Industrial multi-purpose centre. Boasting 74,000m2, 23,000 of which are covered, and includes a futuristic showroom, areas for games, relaxing, and sales and service for vehicles under the New Holland Construction, New Holland Agriculture, Iveco and FPT Industrial brands and reinforcing the Group's commitment to the city of Turin.
The new models from New Holland Construction were once again the leading players in this fifth edition of the Grand Prix: the wheel loaders and the Series C crawler excavators with Tier IV interim motors and SCR (selective catalytic reduction) technology that can provide greater power while reducing consumption by 10% with fewer emissions together with the new series 200 compact wheeled and tracked loaders.
During the day, a group of athletes delighted the crowd with Parkour shows. Parkour is a metropolitan discipline born in France at the beginning of the '80's, focused on
moving within your environment with speed and efficiency, approaching obstacles of any kind, earthmoving equipment included.
Got a story? Email news@theconstructionindex.co.uk