At the start of 2017, and with a remarkable absence of fanfare, Laing O'Rourke quietly sold its construction plant operations, leaving its Select Plant Hire subsidiary to focus primarily on tower cranes.
Its general plant business was sold to Explore Plant Hire, a newly formed joint venture between Laing O'Rourke and WS Transportation.
More than 500 mobile mechanical machines, including more than 200 excavators, were transferred to the new JV, along with several thousand tools, and a substantial inventory of formwork, lighting towers, bowsers and other static equipment.
The two joint venture partners had previously, in 2015, set up Explore Transport to take over Laing O'Rourke's Worksop-headquartered transport operations. Explore Plant Hire, established in January 2017, represents an expansion of this relationship.
WS Transportation is mostly owned by Edd Stobart (the 26-year old son of Eddie Stobart Logistics chairman William Stobart) and David Cox, whose background is in corporate finance.
Currently, at least 85% of Explore Plant Hire's business activity is carried out for Laing O'Rourke. The little work it does do for other customers is mostly ad-hoc subcontract work or re-hiring, says general manager Dan Thomson. And the new plant hire company is still heavily entwined with Select, sharing offices and depots in St Neots (Cambridgeshire), Wincham (Cheshire) and Erith (Kent).
In one sense, it might be considered surprising that Laing O'Rourke should choose to hive off its general plant – which is very much an internal operation – in preference to its tower crane division, which is much more of a genuine market-facing rental business. Select's tower cranes are more often found working for other companies than for Laing O'Rourke itself. 
However, Thompson says that the tower crane business is recognised as a market leader, with highly prized specialist expertise. 
There is also the likelihood that Select Tower Cranes would have less scope for growth were it to be placed in the hands of a third party. Explore Plant Hire, by  contrast, is looking to develop. Whether Ray O'Rourke has long-term plans to spin it off completely, or whether the joint venture was merely expedient in difficult financial circumstances is not yet clear. Most likely, all options will be kept open. Either way, the team is enjoying benefits of the new arrangement.
"It's been a pretty steep learning curve, but the new, simpler business structure of Explore has really freed things up and made the decision-making process quicker and easier," Thompson says. "Laing O'Rourke is still very much Explore's biggest customer, but the focus is firmly on growing the customer base externally as a supplier of both transport and plant and we're predicting a turnover of £65 million this year."
A key part of the plan is updating the plant fleet. Purchases this year include JCB generators and Hydradigs (left) as well as 10 Komatsu excavators – a mix of the ultra-short tail-swing Komatsu PC138US-11 and the larger Komatsu PC360LC-11.

The Komatsu order was significant because it is a marque that Laing O'Rourke had never previously adopted. The Select fleet was always made up of approximately 40% Cat, with the rest split between Hitachi and JCB. These are the first Komatsu excavators in the fleet.
Thompson says the plan is not to drop any of the established suppliers, but to widen the pool.
Explore Plant operations leader Roxanne Barrow says it was service levels that allowed Komatsu to get a foot in the door. "We felt a couple of our current suppliers were letting us down on the after-sales side of things and certain others had very long delivery lead times. We thought it was a good time to start considering opportunities with different manufacturers and Komatsu were able to deliver really quickly."
She adds: "We've had discussions with Marubeni-Komatsu for the past couple of years, but for various reasons those conversations never came to anything. With a renewed ability to invest in the fleet and the simpler management structure of Explore, our decision-making process has been simplified enormously, allowing us to pursue alternative choices."
Despite having substantial in-house capability, Explore opted for dealer Marubeni-Komatsu's three-year extended warranty package. 
"Whenever we've looked at service contracts before they've always seemed quite an expensive add-on but the Marubeni-Komatsu offer was incredibly attractive so we decided to give it a try. This gives the benefit of allowing us to free-up our own engineers for other jobs," she says.
"It also meant we could feel more confident in putting those new machines out on high-profile major sites, or in areas that aren't especially close to our own depots, with the security of knowing that servicing wouldn't be an issue for us. A good example of this is the machines we have on the Manchester Airport site where both PC138 and PC360 excavators can be seen working hard. It's great for us in terms of branding to have those new machines out on hire to customers working on one of the highest-profile jobs in the country already."
It has been a quiet start for Explore Plant Hire and you may not even have seen the name until now, but it is likely you will be seeing it again and perhaps rather often.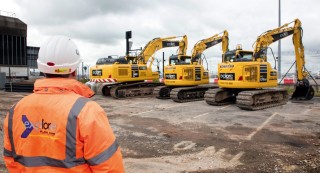 This article was first published in the November 2017 issue of The Construction Index magazine, which you can read for free at epublishing.theconstructionindex.co.uk/magazine/november2017/ 
UK readers can have their own copy of the magazine, in real paper, posted through their letterbox each month by taking out an annual subscription for just £50 a year. See www.theconstructionindex.co.uk/magazine for details.
Got a story? Email news@theconstructionindex.co.uk