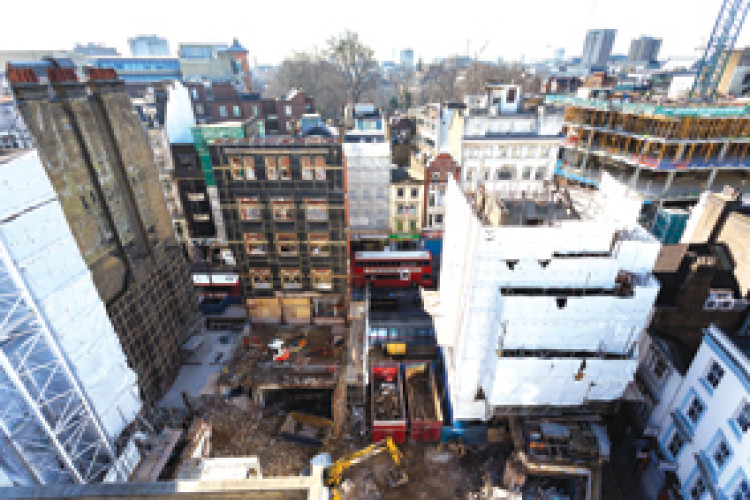 Project manager Richard Turner recently spotted an elderly couple standing outside his site and gazing up with an air of wonderment.  They were staring at a retained Edwardian facade, several storeys high, which rose into the air like a backdrop to a film set.  "But what have they done with the building behind it?" one asked the other in bewilderment. 
It's a good question, which, to do it justice, requires a longer and more detailed answer than most casual spectators require. But Turner has got used to high public interest on this project: known as Oriana II, it takes up a fair portion of the north eastern end of Oxford Street in London; one of the busiest shopping streets in the world.  
Oriana II is a whale of a demolition job that will take more than a year for main contractor, Erith Group, to complete. The complex project involves the painstaking dismantling of 14 interlocking buildings squeezed between Oxford Street and Hanway Street, which curves around the site to the north.  The tight location, close to Tottenham Court Road underground station, has been one of the defining features of the project. Deliveries are not permitted along the frenetically busy Oxford Street.  Instead they must come through Hanway Street, a one-way route which is only wide enough for a transit van at its entrance. Erith has had to secure special permission from Westminster City Council to allow trucks to enter the street from the wrong direction off Tottenham Court Road.  When the project started at the end of September 2013, the site was so constrained that two buildings had to be demolished before a tower crane could be brought onto site.
"We were working in a very small space when we first started," remembers Turner. "Just a triangle of land that used to be an old pub. We could only work at very small scale with a couple of 3 tonne excavators at the beginning." Even now there is only room for one tower crane to serve this complex site. 
And how the base-weight Comedil CTL 180 was installed three months into the project is another gripping saga. The project team had a challenge: they were not permitted to erect the tower crane from Oxford Street during the day time. And the HSE now forbids the erection of tower cranes anywhere at night.
"We had to rejig the programme, because of the restrictions with the crane," remembers Turner. "It came onto the project later than we would have liked." A 6m x 6m crane well had to be created through one of the buildings to prepare for the Comedil's arrival. 
The crane now sits on the basement slab. Its 47 tonne cruciform base is made of concrete sections as long as 8m. Lowering them down through the building via the crane well was a further challenge, Turner says. "We had just inches to spare and had to angle the blocks as we manoeuvred them through the gaps," he remembers.  The erection of the Comedil took three days: a 160 tonne mobile crane was brought onto the site via a specially-constructed road crossing from Oxford Street. It squeezed into the footprint of the two demolished buildings, with inches to spare.
The tower crane sections were delivered to Hanway Street by low-loader. Turner says that the most challenging part of the operation was assembling the 40m luffing jib along the one-way street and lifting it into position through the very narrow gaps in the buildings.  With the tower crane established on site, the daily pace of work has speeded up on Oriana II. This is a relief to Turner: the project is so full of surprises and uncertainties that the programme has to constantly evolve to accommodate them.  "We always work quite far in advance. We've done plenty of investigation works, but you'll always find something else that is going to snarl up [the programme]," he says.
The large site encompasses 14 buildings in a wide range of architectural styles: the most modern structure is a 1960s block with reinforced concrete frame. But around the site you'll find attractive steel beams on other buildings that date back to the 1930s.  The oldest structure dates back to the 19th century: a four-storey brick building with bay windows and an original "butterfly" roof.  The buildings have also gone through many incarnations, which become more apparent as the layers of history are softstripped away.
Several structures were part of a former college and at one stage 26-32 Oxford Street played host to the famous Frascati restaurant. Although it was redeveloped in the 1950s into a green panelled curtain-walled building, many of the Frascati's elegant features, such as architrave and panelling still remain.  "Sometimes it's difficult to tell exactly how old some of these buildings are, or what their origin was," says Turner.  The complex history is epitomised by a library tucked away in the complex sequence of rooms. This was originally part of Oxford College, and later became part of the restaurant. Close by is an old ballroom, now sealed off and awaiting asbestos removal.  "We are often surprised to find old fireplaces that have been hidden away behind refurbishment, with the odd bird's skeleton falling out amongst the old ash,"Turner says.  He adds that the project team often puzzles over why and when certain changes were made.  "We frequently ask ourselves, why would a decision be made to alter this wall, block up that fireplace. Why would anyone choose to encase an ornate steel beam in a square concrete column?"  
Several of the buildings are so structurally weak that they have had to be demolished by hand. This was the case for one of the college buildings, demolished early in the programme. 
"It was so old and delicate that the floors would not take the weight of the machinery. We were not able to prop and support it [adequately]" says Turner. "It took us four weeks to dismantle this building." 
Temporary works, which proliferate as the project progresses, are being designed by the group's in-house company Swanton. But the design has to continually evolve to keep up with new discoveries. 
"It wasn't until we started removing plasterboard that we found so many voids hidden in the walls," says Turner. "We've had to put a lot of additional support in." When the facades have to be retained, the work is even more intricate. On phase one of this project, retention systems have been installed along three Oxford Street facades: the Grade 2 listed stone frontage of 34-36 Oxford Street; the Portland Stone facade of 40-42 which dates back to 1923; and at the most western end of the site, a four-storey red stone facade of 48 Oxford Street, most recently home to a Caffe Nero. The facades are being supported by gantry systems built over the footpath of London's busiest retail street. The gantry systems were erected outside normal working hours during the depths of winter when an added challenge was that the steel had to be installed without damaging Oxford Street's famous Christmas light decorations. Turner confirms that all the lights were taken down, undamaged, in January. 
The Caffe Nero building, at the western end of the site, has had to be treated with extra care: as well as its Oxford Street facade, the side wall that runs along Hanway Street is also being retained. But as this alley is too narrow to accommodate a retention system, the support has had to be installed from within. 
"We had to soft strip before we could understand the geometry of the building," says Turner. "Some of the supporting steelwork has to cut through the existing structure, so we have had to carry out additional temporary works to replace what we have cut out. This has been happening all over the project." 

He adds that grout has also been injected on number 48's crumbling red facade to give it further stability. 
Elsewhere the design of temporary works has had to change to make allowances for walls that are weaker than expected. Crossbracing and picture framing systems have been installed as well as a tie-back system to support walls that are becoming exposed as the demolition progresses. 
Dealing with the unknown problems hidden within the walls of these buildings has only been part of Turner's challenge on this project. He has also had to adjust the programme to cater for the changing plans of tenants. 
Lloyds Bank at 32 Oxford Street should have disappeared a few weeks ago. The bank workers were due to relocate to a new building in early January. But they have been forced to delay their move until the end of March. 
"If we had managed to get into the bank as planned we would be well into phase two of the project by now," comments Turner. "The delay with Lloyds has had a direct knock-on effect on our work.
"We are trying to accelerate the programme where we can, but it is difficult to find opportunities to do that at present." As walls and buildings disappear around Lloyds, extra temporary work has had to be carried out to support the building. Turner says that the project team is constantly trying to find ways of reaching areas that are difficult to access in order to carry out as much work as possible before the bank is vacated. 
From this month, once Lloyds is empty, preparation work is starting on phase two of the project. As well as the demolition of the bank, this will involve removing a series of buildings along Hanway Street from behind retained facades. 
Soon the ground floor slabs will be removed around the site, and Erith will be installing a series of raking props – Turner estimates that there could be as many as 50 – to support the basement area. Later, Erith will be constructing a power network diversion across the site from Hanway Street to Oxford Street. This will involve digging a 1.5m-deep trench below the basement slab. 
"We're leaving this towards the end of the project because it will cut the site in half," says Turner. "And we can't get to it at the moment because Lloyds Bank is in the way." 
He adds that the project has a good working relationship with Westminster Council. 
Erith is working under a Section 61 agreement, and is giving residents breaks throughout the day. Noisy work is carried out in strict two-hour stretches, alternating with two hours of quieter work. "We always work hard to build up a good relationship with residents," says Turner. "We're putting out newsletters, and I visit all the neighbours. They have my mobile number if there are any problems. To date we haven't had a single complaint." 
The project has also notched up impressive recycling statistics. "On this site, 100% of non-hazardous waste is being recycled," Turner says. He adds that so far on this project, less asbestos has been found than was anticipated. 
Turner looks out onto the site with pride. A civil engineer by training, he only recently moved into demolition work, but admits that it is an area that fascinates him. "People see this job and they think it's just crash bang wallop, hit the dust. But it's a bit more artistic than that. I like the challenge of this sort of work. It's not just about knocking things down. It's about keeping the right stuff up."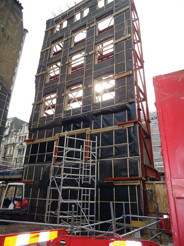 The project
Oriana is a joint venture between clients Land Securities and Frogmore Real Estate Partners, established in 2007. The ambitious scheme is creating a block of mixed-use retail-led development from the junction of Tottenham Court Road, along the eastern end of Oxford Street.  This area has long been the less salubrious end of the UK's busiest shopping street. It is undergoing a transformation in advance of the new Crossrail Station opening at Tottenham Court Road in 2018, along with the redevelopment of Centre Point and St Giles areas.  Oriana Phase II encompasses 26-48 Oxford Street and will create 76,500 sq ft of retail space and 18 apartments. It follows Phase I which created a 149,000 sq ft  space for the flagship Primark store.
This article first appeared in the April 2014 issue of The Construction Index magazine, which can be viewed in full at: http://epublishing.theconstructionindex.co.uk/magazine/april2014
While the magazine is free to view online, a subscription is required to receive you own hard copy every month. This can be purchased for just £35 a year at http://www.theconstructionindex.co.uk/magazine
Got a story? Email news@theconstructionindex.co.uk