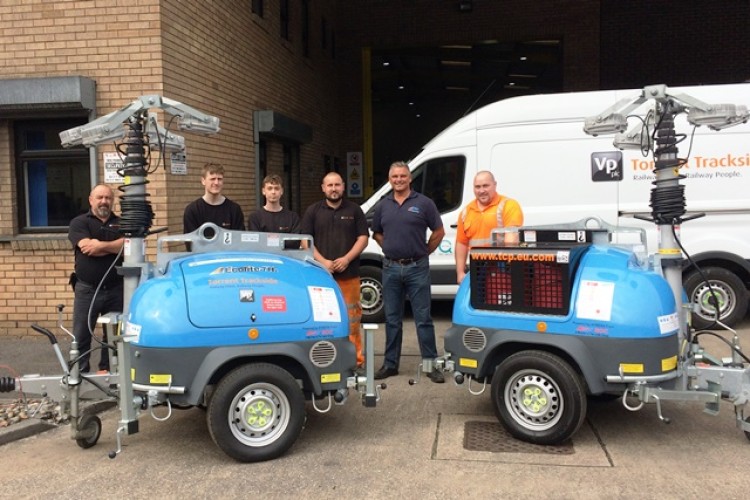 Torrent Trackside is working with Taylor Construction Plant (TCP), manufacturer of the Ecolite-TH2, to promote the Ecolite fuel cell product range to the rail industry as way of reducing carbon emissions.
Costain has already been using the Ecolite-TH2 lighting tower for the past 18 months or more on its rail porjects.
To raise awareness of the product which has zero emissions, Torrent Trackside has taken to the road with the TCP Ecolite team to showcase the lighting tower to its customers.

The Ecolite fuel cell product range is powered by BOC's Hymera fuel cell and operates as a battery hybrid. With no internal combustion engine or harmful emissions, the lighting towers can be used in enclosed spaces.
The BOC Hymera fuel cell produces energy by combining hydrogen with oxygen (from the atmosphere) to produce electricity and water. There are no carbon or particulate emissions as would be the case with a conventional diesel-powered generator. In addition, the process is virtually silent.
Torrent Trackside regional operations manager Leigh Miller said: "As soon as we looked at the light and the ingenuity of it, we realised just how fantastic this product was.  We started a 'road show' jointly, primarily around Wales, then England and most-recently Glasgow.  Since working in collaboration with the TCP team, we can clearly see the synergy between TCP and Torrent Trackside, who are both wanting to promote innovation and quality.  We have had nothing but positive feedback from our customer base throughout the UK and fantastic support and team-work with TCP."
Got a story? Email news@theconstructionindex.co.uk