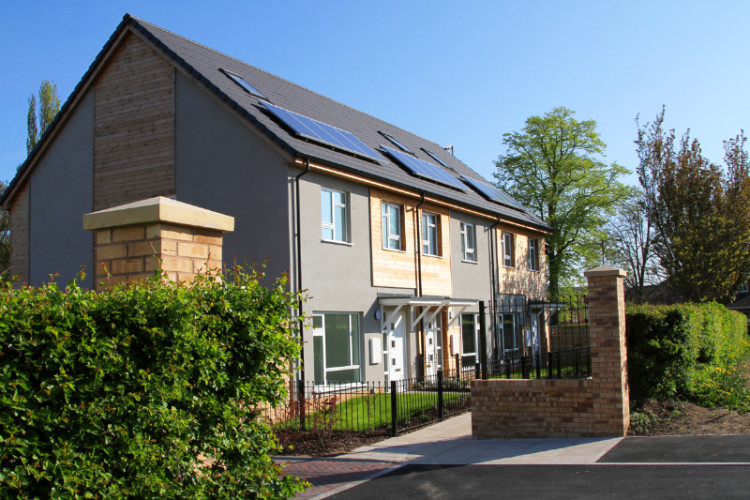 Having achieved part funding under the Homes and Community Agency's (HCA) Renewable Houses funding stream, Tradical Hemcrete, an innovative hemp and lime walling system from Lime Technology, was chosen as a zero carbon and cost effective alternative to conventional masonry cavity walls.
Built on the site of a former residential care home, Domary Court represents the first use of Tradical Hemcrete in the North of England.  Comprising two bungalows and four houses, the £1 million scheme was awarded funding under the Homes and Community Agency's (HCA) Renewable Houses funding stream.
To help the new homes achieve Level 4 of the Code for Sustainable Homes in an affordable and buildable way, Joseph Rowntree and Mansell investigated a number of sustainable build solutions. They found that Tradical Hemcrete would offer a commercially viable alternative to traditional masonry construction and greatly aid in achieving their goal.
Developed by Lime Technology, market leader in the development of sustainable masonry and lime based building products, Tradical Hemcrete is a hemp and lime wall thermal walling system. Carbon negative – possible as the hemp absorbs CO² during its growth – the system has 130kg CO²/m² less than conventional brick and block in a normal wall section., making it a highly sustainable construction alternative.

In addition to its impressive carbon credentials, Tradical Hemcrete is an ideal material for meeting the higher levels of the Code for Sustainable Homes. It also has excellent thermal inertia, meaning that the buildings' internal temperatures change very slowly helping to reduce the need for heating.
At Domary Court, temporary formwork was erected to the timber frame and then after mixing on site, Tradical Hemcrete was poured into the wall voids.  Formwork can be removed after 24 hours but during this important curing period the exposed Tradical Hemcrete walls must be protected from the weather with maximum structural strength not realised until 28 days. The Tradical Hemcrete was then finished with a mixture of external render and Thermowood cedar boarding.
The project was delivered on time and to budget and met all the requirements of the CSH and regulations. The system used has now been further developed into the Hembuild pre-dried panel system reducing programme times by removing the need to cure and dry cast Tradical Hemcrete on site.
Got a story? Email news@theconstructionindex.co.uk