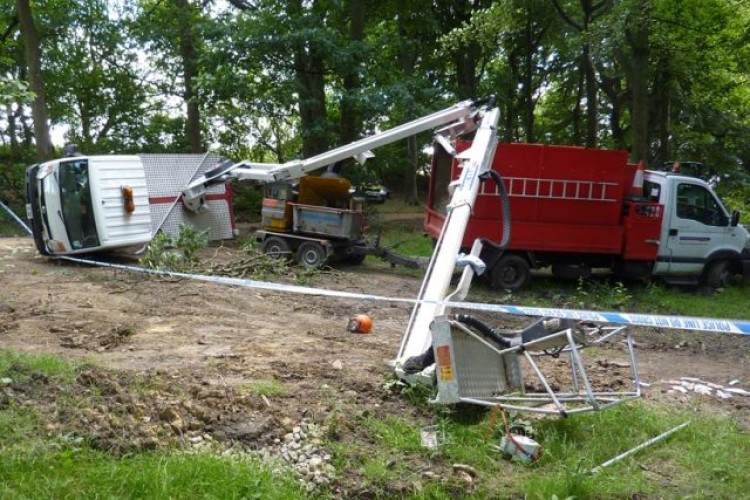 Bradford Magistrates heard the 23-year-old arboricultural worker from Bingley was working from the basket to prune trees in Bierley Hall Woods when the vehicle overturned, sending him crashing to the ground.
He cracked his spine, collar bone, pelvis and right leg, and also suffered internal injuries that needed surgery. The council employee, just 22 when the incident happened on 27 July 2012, was off work for more than five months. Although he has since returned, he is no longer able to carry out tree work at height.
The incident was investigated by the Health & Safety Executive (HSE), which prosecuted Bradford Council after identifying a series of failings involving the planning and preparation of the tree work and the use of the vehicle.
The HSE found that the root of the problem was the use of support mats that were too small for purpose.
The court was told that two tree workers set up the machine correctly on a compacted path in the woods and one of them was working in the elevated basket among the tree tops. As he rotated the boom arm and cradle anti-clockwise to move from tree to tree, the weight distribution of the machine changed. As the weight shifted, one of the stabiliser feet slid off a ground mat and sank into the soft ground at the side of the compacted path. The wrong type of ground mats had been provided to the team to put underneath the machine's feet. The unbalanced machine then toppled without warning.
The investigation identified that the council had failed to properly plan and organise the safety aspects of the tree pruning work. No one had realised that the distance between the stabiliser feet was greater than the width of the path.

Additionally, none of the council workers who did tree work in off-road locations had ever been trained to do the work in soft, sloping or uneven ground. All the training had been done in a depot yard.
Bradford Council was fined £12,000 and ordered to pay £9,623 in costs after admitting breaching Section 2(1) of the Health and Safety at Work etc Act 1974 by failing to ensure the safety of one of its employees while working at height.
After the hearing, HSE inspector David Welsh said: "A young man has suffered life-changing injuries as a result of a number of failures by Bradford Council but we could easily have been dealing with a fatal injury considering the distance of this worker's fall.
"The use of a vehicle-mounted cherry picker for work at height needs to be properly planned and organised. The council failed to assess the risks of the tree pruning work and provided unsuitable mats for the stabiliser feet, which led to an unsafe system of work being in operation.
"A cherry picker is specialist lifting equipment for work at height and the council did not have a lifting plan in place for its general use for tree pruning, despite the dangers of using such lifting equipment being well known."
Got a story? Email news@theconstructionindex.co.uk