Among Castleford's new arrivals is the first Volvo 30-tonne excavator in Great Britain with the optional two-piece boom arrangement.
Castleford Engineering specialises in water-based civil engineering including hydro-electric schemes, fish passes, weir repair and river bank stabilization.
"Because much of our work is focused on maintaining major water courses for river authorities we needed the combination of a sizeable excavator coupled to the maximum flexibility of the boom and arm geometry especially for sheet piling in very confined spaces," said managing director Steve Rule.
"Volvo's EC300D with the two-piece boom arrangement ticks our particular box in this regard," he added.
The new 30-tonner has been supplied by dealer Plant & Engineering Services alongside two compact excavators and a new Volvo ECR235D reduced swing radius excavator complete with dozer blade and Steelwrist tilt rotator.
"We spent quite a bit of time researching the market place for the right machines for the fleet including listening to third party recommendations and I have to say that the build quality coupled to the after sales service support and the ease in dealing with the team at Volvo made our purchasing  decision an easy one," said Mr Rule.  

The new EC300D is powered by a Volvo six cylinder D8H Stage IIIB engine developing 228hp. The machine's 'integrated work mode control' is designed to provide high efficiency, rapid dig cycles and low fuel consumption. 
Hose rupture valves are fitted as standard to the boom and dipper cylinders, as are quick fit hydraulics and a hammer/shear service.
The machine has also benefitted from optional slope and rotator (X3) pipework. With the two-piece boom configuration the working weight of the EC300D nudges 32 tonnes and the machine's equipment has "a far more dynamic feature especially so when the equipment has to work closely in to the superstructure", Volvo says. The effective dumping height with the two piece boom is 9.3 metres.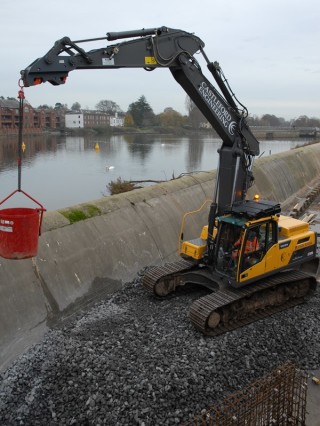 The smaller ECR235D crawler excavator supplied to Castleford Engineering has been equipped specifically for the typical contracts the company undertakes. It includes a dozer blade, hammer-shear circuit and a Steelwrist X26 rotator.
The reduced swing excavator has a Stage IIIB 6-litre Volvo engine producing 172 hp which operates in conjunction with an advanced mode control system ensuring the maximum possible hydraulic horsepower available is delivered at a constant engine speed under varying load conditions. Equipped with a 5.7m monobloc boom and 2.5m dipper arm, the maximum reach is a generous 9.5 metres and lifting capacity across carriage at full reach is an impressive 3.1 tonnes. The machine's balance and stability is enhanced by the fitting of 700mm track pads and dozer blade, giving an operating weight of 27.5 tonnes.
Got a story? Email news@theconstructionindex.co.uk