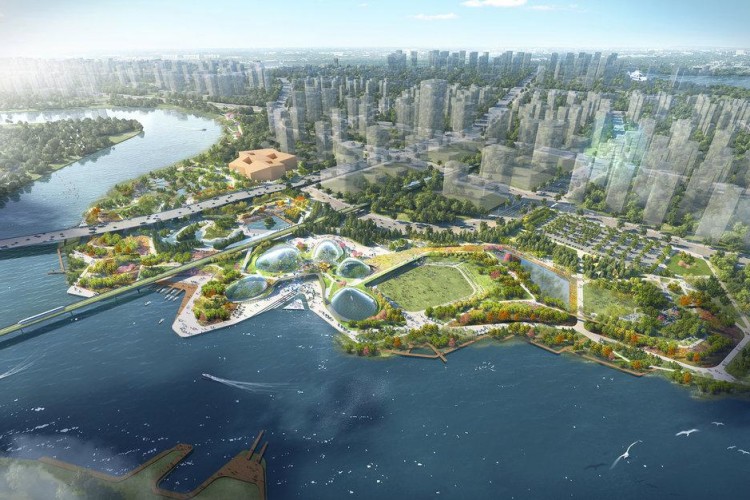 The park will occupy a central location in Tianjin Eco-City on the Gu Dao Canal. Grant Associates'  design vision for the Tianjin Sino-Singapore Friendship Park Friendship Park is that it will welcome visitors of all ages, celebrating the friendship between China and Singapore, and embodying the principles of sustainability.
Grant Associates' masterplan aims to translate these ideas onto site by interlocking contrasting landscapes and characters – such as water and land, nature and city - while maintaining a unity in the design.
Grant Associates Singapore will lead the design of Tianjin Sino-Singapore Friendship Park with a phased masterplan that proposes a conservatory of five glass biomes, housing tropical plant collections and water gardens. Other key design elements include a wetland centre, an urban dock, play areas, event lawn and amphitheatre.
Alongside Grant Associates, the design team for the conservatories includes WilkinsonEyre Architects, environmental design consultant Atelier Ten and structural engineer Atelier One. The team will collaborate with local consultants to deliver the project. Friendship Park is also intended as an all-season, international tourist destination.

Singapore's National Parks Board (Nparks) is acting in the capacity as advisor to Tianjin Eco-City for the Friendship Park scheme. Confirmed local partners for Grant Associates' design team include Tianjin Economic-Technological Development Area (TEDA).
Stefaan Lambreghts, associate at Grant Associates, said: "Friendship Park is a hugely exhilarating and ambitious project. Our vision is to create a sustainable, playful and life enhancing landscape alongside inspiring architecture. Together this will provide a rich variety of spaces in which people can come together to play and learn, and have fun.
"The park symbolises many things. It represents the close relationship between China and Singapore, as well as the connection between people and nature, land and water, shelter and exposure. Friendship Park will exemplify the vital role of public parks in providing space for people of all ages to enjoy a rich variety of experiences with nature."
Tianjin Eco-City, which was initiated in 2008, is a bilateral project between China and Singapore aimed at creating a blueprint for the future development of sustainable cities. The basic infrastructure for Sino-Singapore Tianjin Eco-City is complete and the first residents moved into the city in 2012. When completed in around 2020, the eco-city will house up to 350,000 people in a low-carbon, green environment that already ranks as the world's largest eco-city. A series of celebrations are planned to take place in Tianjin Eco-City in 2018 to mark the concept's tenth anniversary.
Got a story? Email news@theconstructionindex.co.uk