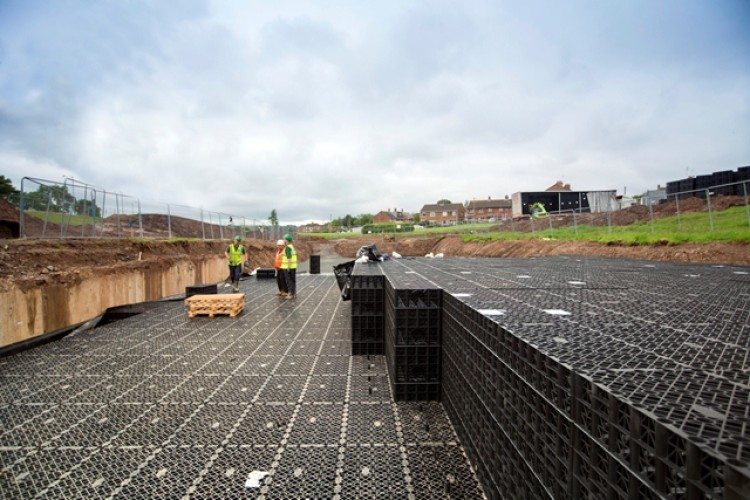 The £600,000 storm water improvement works are being carried out in response to flooding in a residential area and to meet future Rivers Agency standards.
Polypipe's technical team worked with Northern Ireland Water, subcontractor Charcon Construction Solutions and main contractor Graham Construction to devise a bespoke, easy-to-install modular storage tank with a number of two-part access chambers. It is the first time a sustainable urban drainage system (SUDS) of this kind has been used by NI Water.
The tank was built from Polypipe's Polystorm-R and Ridgistorm-XL products.
Polypipe was able to create bespoke 900mm Ridgistorm-XL outlet pipes with 300mm connections to the storm tank, as a lightweight alternative to existing concrete piping.
Polypipe Ulster sales director Harry Shields said: "The Carrowreagh storm sewer improvement scheme is a great example of the bespoke design solutions which can be achieved when manufacturers, consultant engineers and contractors work together from the early design stage and we are delighted to have been selected for this project. Our in-house fabrications team were able to deliver a sustainable drainage system in line with the exact requirements of this development, with a number of bespoke features including the access units which provide surface level access for inspection activities".
Got a story? Email news@theconstructionindex.co.uk