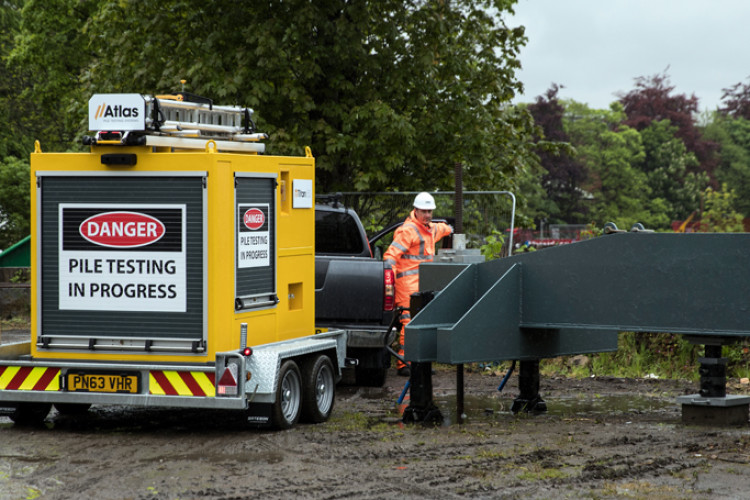 It is 20 years since the Institution of Civil Engineers launched the Specification for Piling and Embedded Retaining Walls (SPERWall) and for clients, engineers and contractors, it remains the leading authority on piling and retaining walls in the UK and Europe.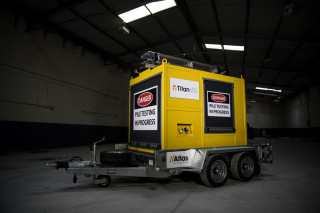 Clearly, much has changed since the publication of the first edition in 1996 and technological innovations have allowed the construction industry in general to make huge advances.
Wireless and Bluetooth technology, remotely controllable heavy plant, 3D modelling, asset mapping, cloud computing and predictive software have transformed the industry.
The Third Edition of SPERWall, published earlier this year in response to developments in piling techniques and changes to European standards, is designed to set new standards for safety and accuracy.
Yet for some reason, the piling industry largely lives in the past, relying on outdated technology that was used long before the ICE drafted that first edition of SPERWall.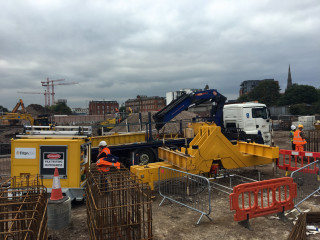 In many countries, engineers still rely on stacking kentledge into huge towering pyramids weighing thousands of tonnes over a reaction beam to test pile reaction. And then, incredibly, we see construction workers sitting in the shade beneath the load to escape the glare of the midday sun. 
Fortunately, testing procedures in the UK have moved on. Automated testing units that employ hydraulic pumps to impose loadings and remote sensors to relay information have removed operatives from some areas of the test, but not from all.
There is still too high a risk of accidents as people continue to work too close to high pressure hydraulics exerting thousands of tonnes of load. This should be avoided if at all possible as any fault, error or failure in the system could result in serious injury. 
It is an issue Rory O'Rourke, chief executive of specialist monitoring business the Datum Group, has attempted to address through the pile-testing arm of his business. 
"There are still too many stories of operatives being injured or even killed when involved in pile testing," he says. "I simply would not allow my staff to be placed in harm's way and so we decided to do something about it."
Harnessing the technology used in other departments of the Datum Group, O'Rourke's engineers spent two years developing and trialling a new, fully automated and unmanned static load testing system, the Titan 650.
"The Titan 650 allows test controllers to remotely apply and maintain a load in a schedule of steps for any desired duration with absolute control and efficiency," says O'Rourke. "A pressure control system allows load to be delivered through one or more hydraulic jacks with pile and reaction movement recorded and data presented continuously," he adds.
"Crucially, the Titan 650 removes the need for operatives to remain on site beyond the initial set-up, which provides obvious health and safety benefits."
According to the Federation of Piling Specialists, load testing currently represents 4% - 6% of the value of the UK piling market and can account for up to 10% of a piling contract. 
The analysis of test results allows consultants and contractors to make informed decisions about the installation of working piles - and adapt to 'live' test results of those working piles as the project progresses.
But such decisions on potential modifications to the design or construction can only be as good as the information they receive, and this relay of information is often delayed or inconclusive due to errors or test failures. Such instances then rely on an interpretation of available data rather than conclusive, transparent and accurate results.

"We can ensure that doesn't happen any more," claims O'Rourke. "The Titan 650 is equipped with wireless displacement sensors which record pile settlement and reaction uplift, while the wirelessly-controlled load cell records data eight times a second. Further wireless rotation sensors record the performance of the reaction frame or kentledge during, and after, the completion of the test.
"This complete and continuous data stream provides the most accurate and transparent testing results, which can be viewed at all times by contractor, consultant and even the client, if required." 
The industry demands increasing standards of accuracy and transparency, and higher levels of safety – all of which the Atlas pile testing system appears to be able to satisfy.
Nottingham-based specialist Non Destructive Testing Services has already committed to purchasing the Titan 650 and Atlas Pile Testing Systems is conducting demonstrations on a weekly basis.
"[The system's] advancement in load application, autonomous control, viewing of test performance and above all test safety mark a significant advancement in static pile test methodology," says John Purser, director of NDT.
Publication of the third edition of SPERWall earlier this year is expected to improve standards significantly and Datum Group is hopeful that its provisions will encourage sales of the Atlas system: "It appears to be written with the Titan 650 specifically in mind as our system is fully compliant," says O'Rourke. 
Tablet users 
The hazards of traditional
pile-testing methods
graphically displayed
How it works
The Titan 650 is a remotely controlled, automated, programmable load applicator for static load tests of piles, anchors and soil nails. 
The system enables the test controller to apply a schedule of load steps and to maintain the load for any duration. Loads are delivered to a high level of accuracy via a hydraulic jack and a remote system records movement and presents data in real time. 
Wireless displacement sensors (bottom photo) record the pile movement and a wireless load cell records the load applied by the Titan 650. Additional sensors record the movement of the reaction frame and kentledge. 
The unit is delivered to site on a trailer and is easily moved into position using a forklift or crane, using the four lifting eyes located on the roof. 
The test is set up in a series of steps using a touch screen panel located inside the rear sliding door.
Once the Titan 650 set-up procedure has been completed the test can begin. The test controller, who can be located anywhere in the world, can view the test as it happens or choose to receive timed reports. At any point during the test, the controller can take control of the test remotely, increasing or reducing the load or altering the schedule or duration of load steps.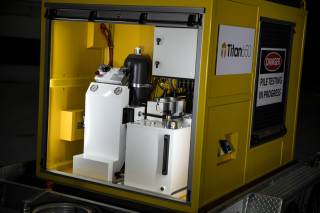 This article was first published in the October 2017 issue of The Construction Index magazine, which you can read for free at http://epublishing.theconstructionindex.co.uk/magazine/october2017/
UK readers can have their own copy of the magazine, in real paper, posted through their letterbox each month by taking out an annual subscription for just £50 a year. See www.theconstructionindex.co.uk/magazine for details.
Got a story? Email news@theconstructionindex.co.uk