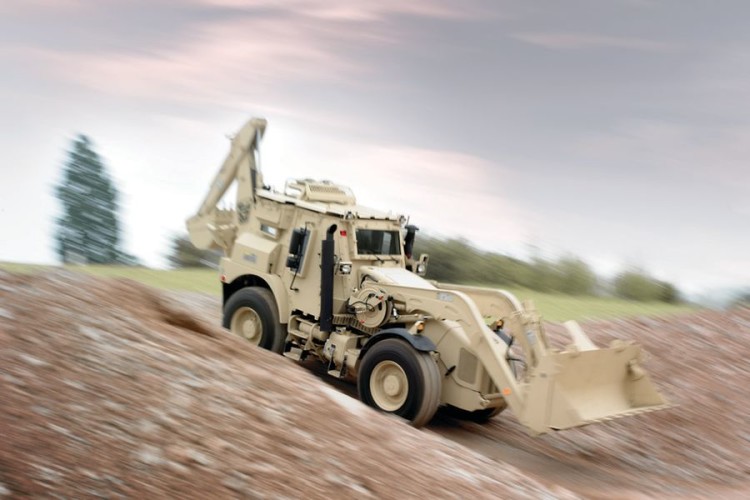 The new deal for approximately 180 HMEEs will continue production through 2020.
JCB said that a new multi-year contract is expected in the future and will extend HMEE production into the middle of the next decade.
JCB manufactures the HMEE at its North America headquarters near Savannah. Last month, the company hosted military and community leaders, and visiting dignitaries, at the facility to commemorate the production of 1,000 HMEEs for the US military and allied nations.
"The people of JCB are proud to build the construction machines our soldiers need to safely complete their military and humanitarian missions around the world," said Richard Fox-Marrs, president and CEO of JCB North America.

To meet the increased demand, JCB expects to double the HMEE production rate by mid-2019. To enable the higher production rate, the company will add approximately 20 positions over the next nine months.
"The growth and success of the HMEE program positions JCB well for other construction equipment programs within the Department of Defense and other government agencies," said Chris Giorgianni, JCB vice president for government and defence. "In addition to the new HMEEs, we will soon begin delivering 1,600 forklifts to the Army. Beyond that, we are looking at other defence opportunities that can benefit from our commercial equipment prowess."
The HMEE is a construction machine designed for a range of military and disaster relief missions, including earthmoving, fortification construction and ground clearing. The design leverages JCB's commercial products, including the 4CX-15 SUPER—the largest backhoe loader available in North America and the JCB Fastrac – claimed to be the world's fastest production tractor. The HMEE has a top speed of 55mph. It is certified for military transport on ships, rail and aircraft, and for airdrop operations. It is available in various configurations including an armoured specification.
In 2005, JCB won the first multi-year production contract for 636 machines, valued at approximately US$209m, with an additional service contract worth approximately US$20m. Subsequent contract extensions and international sales have boosted production to 1,000 machines.
Got a story? Email news@theconstructionindex.co.uk