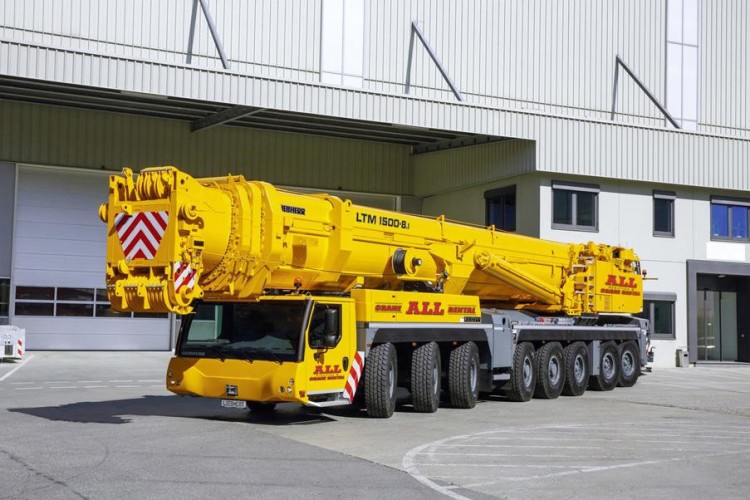 The order from the All Family of Companies consists of models with capacities ranging from 70 US tons to 600 US tons. The package includes 14 units in the low- to medium-capacity range as well as the 600-ton LTM 1500-8.1, the fourth one in the All Family's all-terrain (AT) fleet.
The 600-ton LTM 1500-8.1 is Liebherr's third-largest AT. It features a seven-section boom that extends to 276 feet and, with a luffing jib, can reach a hoisting height up to 476 feet at a radius of 354 feet. Applications include bridges and highways, power plants, wind farm and refineries as well as the erecting and disassembling tower cranes.
"A prime reason for adding this group of machines for 2019 is that Liebherr equipment offers many thoughtfully designed technologies that help meet our customers' everyday challenges," said Michael Liptak, president of the All Family of Companies. One of those is Liebherr's innovative VarioBase crane support system, he said. VarioBase allows the operator to customise each of the crane's outrigger extensions independently.

"The VarioBase feature is proving really valuable to our customers, particularly in urban construction, where we are seeing a huge uptick," added Liptak. "But whether these ATs are working on an urban core renewal project or a tight power plant site, VarioBase allows them to fit where cranes of similar capacity never could before. Our operators love it, but it also makes the machines safer and more cost effective as bare rentals."
Besides the LTM 1500-8.1, the package also includes the 70-ton LTM 1060-3.1 (two units); the new 100-ton LTM 1090-4.2 (four units), the 143-USt LTM 1130-5.1 (four units), an LTM 1100-5.2 and three LTM 1200-5.1 units.
"This purchase extends the range and strength of our all-terrain fleet, and the high demand for these types of machines at all our locations can be more readily fulfilled," said Liptak. "As a group, these ATs are versatile, economical, and efficient machines."
Got a story? Email news@theconstructionindex.co.uk