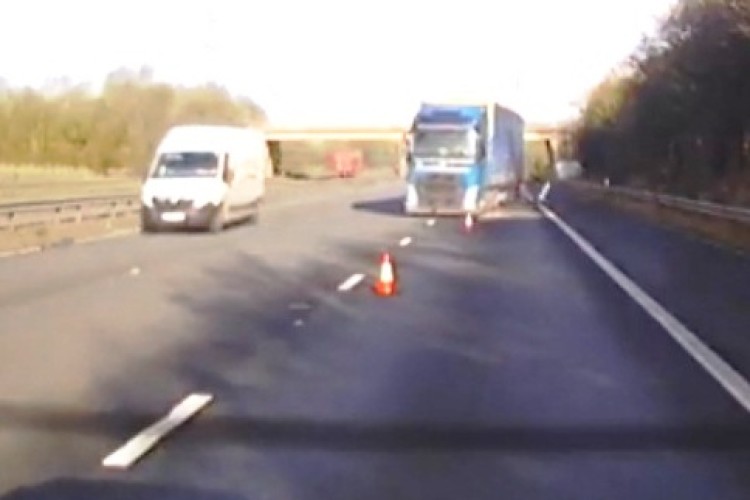 Highways England has today released video footage showing the sort of dangers that its employees and their contractors have to face every day.
Research by Highways England reveals a catalogue of serious incidents and near misses ranging from motorists driving into coned off areas where road workers are working to physical and verbal abuse.
On average there are nearly 300 incidents a week of incursions and abuse reported by road workers on England's motorways and trunk roads.
And of almost 3,500 incidents recorded between July 2017 until September 2017, 150 were serious, leading to four road workers and two motorists being injured.
Highways England is calling on road users to be patient if they are delayed by roadworks and to respect road workers doing a difficult job.
The first video clip (below) shows a driver who has been stopped by road works on the A120 in Essex, with two barriers in place for drivers to be allowed through with an escort. The selfish driver had already driven around the initial closure point on the wrong side of the road, then drove at speed to attempt to avoid Essex Police who were supporting Highways England in enforcing the closure. His actions jeopardised the lives of all those road workers on this stretch of road between Braintree and the A12 at Marks Tey, said Highways England.

The second footage shows a lorry driving through coned off roadworks on the M1.
Chief highways engineer Mike Wilson said: "While we plan our maintenance and improvement works to minimise inconvenience to drivers, some road closures are necessary, and ultimately for the benefit of road users.
"Drivers who selfishly and illegally ignore these traffic restrictions force their way through are putting both their lives and those of our road workers at risk – all to save a few minutes on their journey."
Also since October 2014, some 341 incidents of either verbal or physical abuse towards workers were recorded across England.
Adie Whiting, 33, has worked for Interserve on behalf of Highways England as a traffic control safety officer, deploying cones, signs, barriers and temporary traffic signals.
"I've been sworn at a lot, physically threatened on occasions and even had someone try to run me over once," he said. "You have to have a thick skin doing this job."
Got a story? Email news@theconstructionindex.co.uk