Its main use will be to supplying concrete for piling works for overhead electrification. Mixing onsite allows for less traffic movements, less waste, improved concrete quality, improved work-ability and increased operational efficiency, Cubic3 says.
The 2.5 m3 mixer is twist-lock mounted and is loaded onto a rail trailer at a rail siding. It is then towed on track by a road rail vehicle (RRV) to the job site and the RRV loads it in-situ from either materials left at the location or from an additional trailer carrying materials for the concrete mix.
The compact mixer range has outputs of 25 m3 per hour.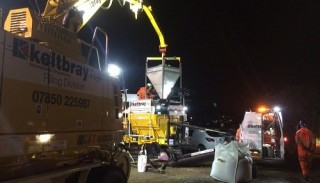 Got a story? Email news@theconstructionindex.co.uk