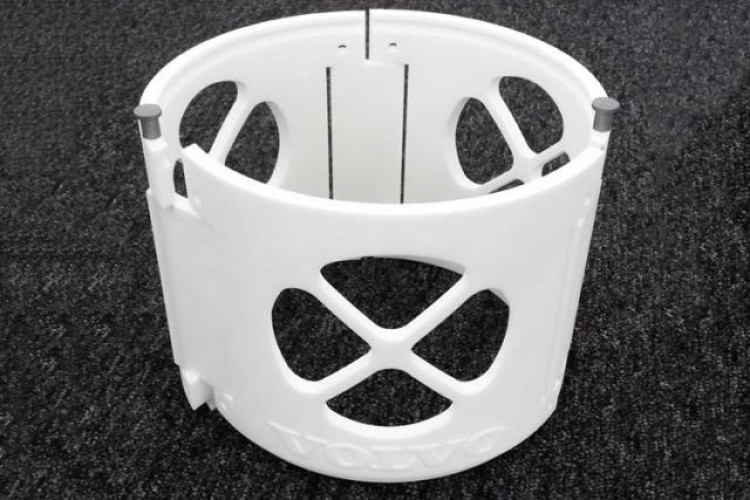 Plastic parts not held in stock can now be 'printed' and delivered in a week.
"It's especially good for older machines where the parts that have worn out are no longer made efficiently in traditional production methods," said Volvo CE business support manager Jasenko Lagumdzija. "Producing new parts by 3D printing cuts down on time and costs, so it's an efficient way of helping customers."
Additive manufacturing, as 3D printing is more properly known, is the process of repeatedly layering a molten material or liquid in a specific pattern that is set by the printer's software, until it solidifies into the required three-dimensional shape. For its aftermarket service, Volvo CE commissions the creation of spare parts made of thermoplastics to send to customers who require replacement parts.
Typical parts made by 3D printing so far include parts of a cabin, plastic coverings, and sections of air conditioning units. The company uses its own archive of drawings, 3D models and product information to feed into the printer to produce the correct new part.
"The customer is getting exactly the same part in replacing plastic with plastic," said Annika Fries, aftermarket branding manager. "We do a lot of quality assurance – the 3D parts have the same specifications and go through the same process as the original, and get the same warranty, so customers can be confident they are getting a genuine Volvo approved part."
Parts made of metals through additive manufacturing may also be offered in future, Volvo said.
Daniel Kalfholm, project leader for aftermarket purchasing for Volvo CE's EMEA region, said: "Lead-times are significantly reduced with 3D printing and since there are no minimum order quantity requirements, we benefit from quicker delivery of parts, lower inventory levels in our warehouses and an improved ability to balance supply and demand.
"And it can all be carried out a purchase price that is comparable to that of a traditionally manufactured component."
The process is also being used by Volvo CE for new components for prototype machinery. The company has several 3D printers for this purpose in its research and development laboratories.
"As we only need to produce low volumes of parts for prototyping, it's a good way to see what works," said Fredrick Andersson, development engineer for wheeled loaders powertrain installation. "We have a lot of knowledge and we can make changes quickly and easily with 3D printing. And because of this, it means that the time to market for a new product is quicker, so it's of great benefit to our company."
Got a story? Email news@theconstructionindex.co.uk