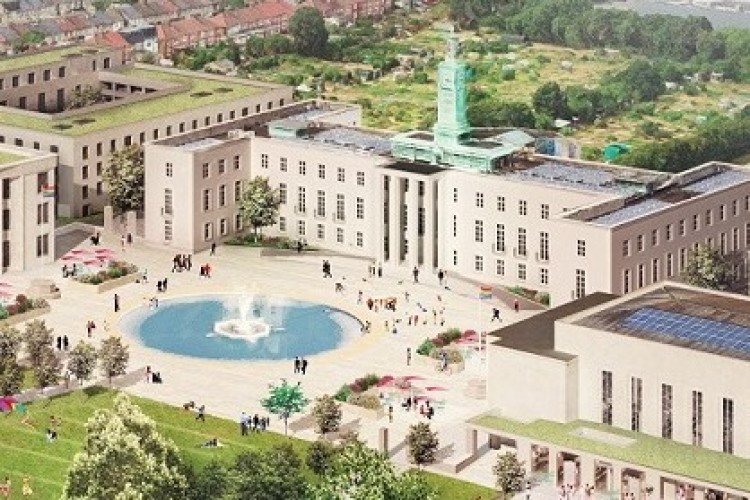 Expressions of interest have been issued to selected developers via the London Development Panel (LDP2) to select a delivery partner to redevelop the Town Hall and create a new neighbourhood.
The plans show more than 450 new homes to be built on the Town Hall site and adjacent Willow House site.
The Town Hall Campus plan will see staff from 10 older, less efficient council offices across the borough move into new office space to be built on the Town Hall Campus site. The land unlocked by this move will then be used for housing, with 50% affordable.
The council is looking for a developer that can make the best use of its corporate estate while also improving its efficiency.
Initial plans revealed in 2017 have been revised following community feedback. Previously, there were only going to be 300 new homes with only 35% classed as affordable housing. The revised plan also safeguards the green space of the Town Hall Campus for events and concerts.

The gross development value across the Town Hall plots and Willow House is estimated to be more than £150m, the council said.
Waltham Forest Council leader Clare Coghill said: "This is a once in a lifetime project and will truly change the way we work for the benefit of our community, customers, colleagues and the council. The redeveloped Town Hall campus will be a one-stop shop for our residents, and a single site from which the majority of council staff can work.
"The Town Hall and neighbouring Assembly Hall are iconic and architectural treasures. We want a delivery partner that recognises the value and importance of this site to the community, and understands our vision to protect and preserve them, while welcoming ways to modernise the site and open it up for residents, staff and visitors. This is a fantastic opportunity to realise the full potential of this wonderful borough."
Got a story? Email news@theconstructionindex.co.uk