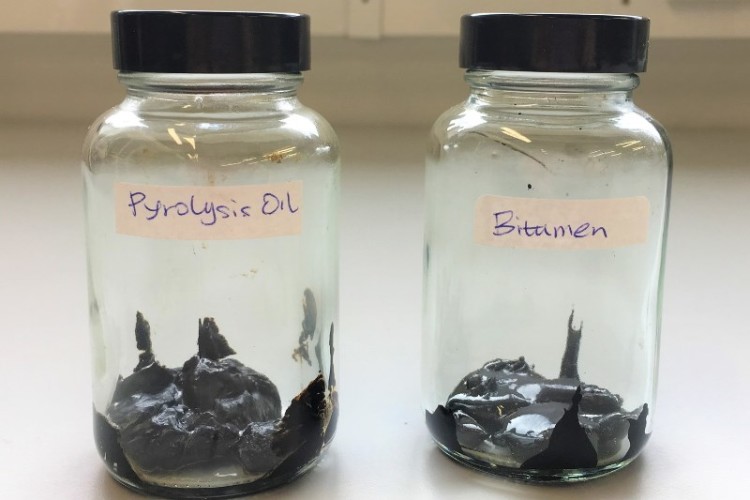 The process breaks down organic bin waste, such as decomposed food, paper and plastic, to produce a black, highly viscous fluid similar to bitumen.
It has been developed by academics at Aston University's European Bioenergy Research Institute (EBRI) and the Aston Institute of Materials Research (AIMR). They say that it could pave the way to a cheaper and greener alternative to the traditional method of extracting bitumen from crude oil and they have already attracted the interest of Birmingham City Council and Highways England,
The researchers believe their material will use at least four times more "waste fraction" than the 'plastic road' pilots that are currently being tested by several UK councils.
Asphalt, produced by mixing bitumen with minerals, is one of the biggest sources of carbon emissions in road construction. In 2016 the UK produced 26 million tonnes of hot and warm mix asphalt.
If adopted widely, Aston's so-called bio-bitumen could not only reduce asphalt consumption but also reduce the 7.7 million tonnes of biodegradable municipal waste that is sent to landfill each year.
The bio-bitumen is produced by placing the organic waste in a reactor and heating it to around 500°C in the absence of oxygen. The process is called pyrolysis. It causes the chemical decomposition of organic, carbon-based materials and is often used in the production of biofuels. The researchers found that by changing the processing parameters, such as temperature, processing time and product collection strategy, they were able to alter the characteristics of the products to create a substance with similar qualities to bitumen.
Yang Yang, study author and EBRI researcher in biomass pyrolysis, said: "If the product is largely produced and widely applied, we would have a better way to convert our waste, including non-biodegradable plastic waste, into a high-value construction material, instead of current disposal practices such as landfill and incineration – both of which are harmful to the environment.
"In an industrial context, local authorities would send their waste to a treatment plant for the recovery of recyclable materials such as metals, then the remaining waste would be treated by our patented intermediate pyrolysis technology.

"We can use this to create a bio-bitumen which could be directly applied or blended with conventional bitumen for different purposes, such as foaming asphalt, emulsified asphalt or asphalt concrete."
Further research and funding is needed to create a product of a standard that industry could roll out on a large scale. But Dr Yang believes this is achievable.
Dr Yuqing Zhang, study author and AIMR researcher in highway engineering, said: "Currently, we would need to blend our material into conventional bitumen for road applications such as asphalt, but ultimately our aim is to develop the product to replace it all together.
"To do this, we need to carry out further tests on the many components that make up organic household waste and conduct more research into product upgrading.
"We have already had interest from Highways England and Birmingham City Council in our research, and we're eager to make progress and demonstrate how this material could spark a sharp decline in the pollution created in the production of asphalt."
Last year UK councils began to test the use of 'plastic roads' after a manufacturer developed an asphalt mixture which contained 0.5% plastic recycled from bottles and bags. The plastic is converted into pellets and then melted into the traditional asphalt mixture, making the road stronger and longer-lasting.
But the Aston researchers reckon that their process is better for road surfacing as well as the environment. "The 'plastic roads' only use a relatively small amount of plastic, and still rely heavily on traditional asphalt," Dr Yang said. "What we use is black bin waste, which includes not only plastic but a wide range of organic materials. What's more, we expect to be able to significantly increase the proportion of the renewable parts, or the 'bio-fraction', in the final asphalt mixture product for road surfacing."
The research paper Intermediate pyrolysis of organic fraction of municipal solid waste and rheological study of the pyrolysis oil for potential use as bio-bitumen is published in the Journal of Cleaner Production. It can be accessed via ScienceDirect.
Got a story? Email news@theconstructionindex.co.uk