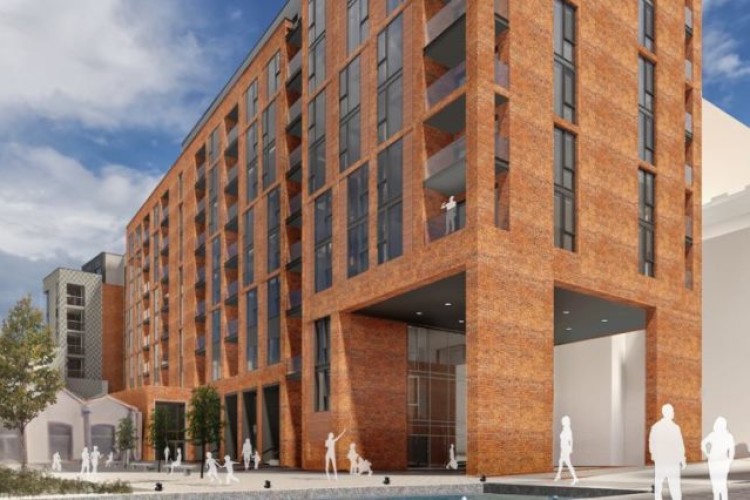 Winvic Construction has been working alongside developer Spitfire Bespoke Homes on the Newhall Square development for several months and is now ready to break ground.
The private rented sector (PRS) development is across two plots between the Jewellery Quarter and Central Business District, and incorporates Grade II-listed buildings. Plot 1 is on Charlotte Street and will consist of 79 apartments over six storeys with an undercroft car park for 61 cars. Plot 2a is on Newhall Street and will be a mixed-use development with 138 apartments, three commercial spaces and six townhouses, totalling 10 storeys. Plot 2b, Whitmore, will get four apartments.
Work will start on site on Thursday 7th December 2017, Winvic has confirmed.

Winvic is better known for big sheds and industrial warehouses but has found a niche in PRS and purpose-built student accommodation (PBSA), which together now account for 25% of its turnover (which was £462m last year).
Winvic has delivered 2,468 bedrooms on PRS and PBSA projects to date and has a further 2,754 beds set to be complete by the end of 2018/2019.
Its growth in this sector has led to the creation of a new directorial role, with Mark Jones appointed as director for multi-room. He said: "Winvic has always been committed to building effective working relationships and exceeding client expectations, which has led to consistent repeat business. As the new Director for Multi-room, I'm delighted to be in the position to strengthen our current standing in a fast-growing sector. We're looking forward to constructing high quality, sustainable homes in revitalised city centres. Our team takes great pride in their work and are always looking for ways to evolve and improve."
Got a story? Email news@theconstructionindex.co.uk