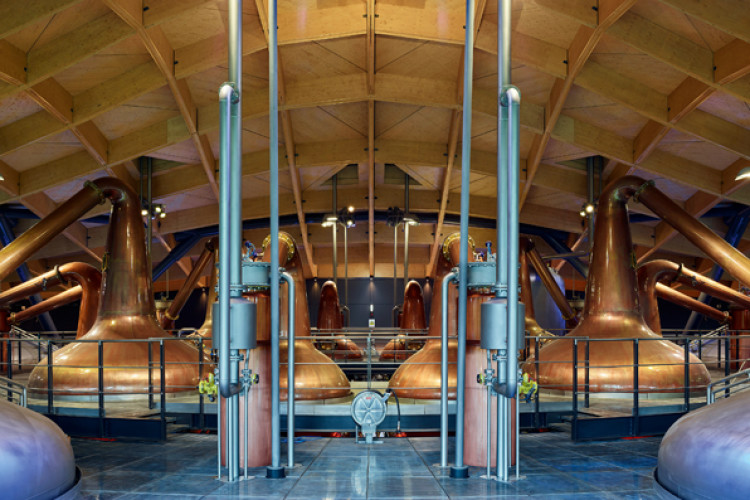 Timber roof structures are nothing new – in fact, what could be more traditional than a pitched roof with its familiar joists, purlins and rafters? But the timber roof erected over the new £140m Macallan distillery in the Scottish Highlands is anything but traditional; in fact Wiehag, the Austrian company that manufactured and supplied it says it is "the most complicated engineered timber roof construction in the world".
More than 200 metres long and 60 metres wide, the roof is a fluid, undulating earth-clad canopy comprising thousands of components supported by a combination of glulam beams and steel columns.
The Macallan is a premium brand – for many connoisseurs it's the 'Rolls-Royce of whiskies' – and the global market for the amber fluid is currently booming. It is estimated that Scotch whisky contributes almost £5bn to the UK economy, making up around 25% of all UK food and drink exports. And in the past decade, exports of Scotch have increased by a massive 87%, according to the Scotch Whisky Association.
Hence The Macallan's need for a new distillery building. This new facility will allow the owner – privately-owned international distiller the Edrington Group – to increase production by over 30%.
Of course, Edrington could have saved itself a few million pounds and erected a standard industrial shed to house its new distillery. But Speyside distilleries are, by their nature, found in scenic locations and, rather like the prestige vineyards and wineries of the world, attract a lot of tourists to the region. A crinkly-tin shed simply wouldn't make the cut – and probably wouldn't have made it past the planners either.
Several famous French and Spanish vineyards have employed signature architects, among them Sir Norman Foster and Santiago Calatrava, to design their new facilities. So, inspired by these, Edrington commissioned the equally illustrious practice of Rogers Stirk Harbour & Partners (formerly the Richard Rogers Partnership) to design its new building.
Site team
The Macallan Distillery, Speyside
Client: Edrington Group
Architect: Rogers Stirk Harbour
Consulting engineer: Arup
Main contractor: Robertson Group
Structural timber: Wiehag
Structural steel: SH Structures
Green roof: Sky Garden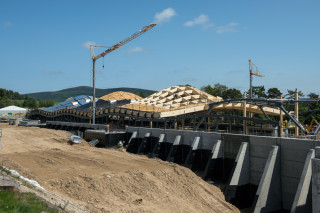 A key element of the design is the way the building blends into the landscape – which it does largely thanks to the low and undulating contours of the roof. Part of a natural hillside was excavated and the building 'embedded' within it so that it appears to grow out of the natural rise and fall of the surrounding countryside.
The green turf-clad roof extends the full 207 metres of the building, covering an area of ​​12,300m2. It incorporates five domes, with the whisky production facility housed under four of them and the exhibition and visitor centre located under the fifth, also the tallest.
If Edrington wanted an eye-catching design, it certainly chose the right architect – the building it stunning. But from a buildability point of view, it was potentially a contractor's nightmare. The timber roof, made up of thousands of individual components, is supported on a series of structural steel frames – one supporting each of the domes – and the interface between the two elements required an excruciating level of precision.
"The interface between the timber frame and the steelwork had to be within +/-10mm," says Anderson. The position of the four structural 'nodes', where each steel frame rests on the concrete sub-structure, had to be accurate to within +/- 5mm.
The decision to embed one end of the building in the hillside required the excavation of some 500,000m3 of earth and the construction of a massive 12-metre-high concrete retaining wall.
The extensive in-situ concrete work was undertaken by specialist subcontractor Careys Civil Engineering, which used customised Trio, Vario and Rundflex formwork from Peri to construct the exposed architectural concrete walls and cylindrical distillery tanks, as well as the buttressed retaining wall.
The demands of the main contract ruled out all but the biggest Tier 1 contractors. But the winning bid came not from a London-based multinational but from the Robertson Group, a Scottish contractor headquartered in Stirling.
"This job is a big feather in our cap, absolutely," confirms Robertson's project manager Brian Anderson. Robertson Group is no pipsqueak – it's a £565m-turnover business – but it's very much a regional player and this is not the kind of project it normally undertakes.
"Primarily, we build warehouses and commercial buildings, but we're a local company and that meant something to the client," continues Anderson. "But we were up against the major big-name contractors; the sentiment in the industry was that nobody outside the M25 could do this job. We were the underdog and we had to fight hard."
And fight it did. Edrington's group operations director, Graham Hutcheon, says he was looking for "a level of partnership and expertise to deliver the vision". The reason Robertson Group won the contract was that "they wanted it more than anybody else,"
he says.
The main contract was awarded, following a two-stage tender process, in August 2014. Robertson had pre-qualified following an exhaustive search for a timber engineering specialist with the ability to deliver the complicated roof structure.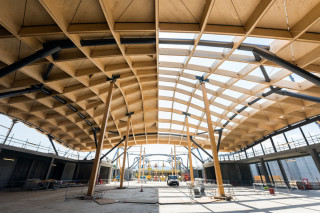 "We ran a competition which quickly identified four companies who we thought might be able to do the job," says Anderson. "We interviewed all four and Wiehag was the clear winner.
While the UK boasts a wealth of engineering and design expertise, timber engineering is not one of our strengths and timber is used as a structural material far more extensively on the continent that it is here, says John Spittle, Wiehag's UK representative.
"UK engineers train on steel and concrete; they're not trained to work with timber," comments Spittle. He also points out that Wiehag does all the engineering design for its timber structures – normally a function of the consulting engineer. "So when timber's used, they lose out."
But timber is what Rogers Stirk Harbour wanted for the Macallan Distillery, and so timber it was. And it wasn't just the choice of materials that was sacrosanct; nearly all details of the design were rigidly enforced to avoid any watering-down of the project's architectural integrity.
"We didn't do much value engineering on this job," says Brian Anderson. "There wasn't the scope for it. We had to find a way to deliver the architect's vision without compromise."
The roof was the biggest challenge because of its unprecedented complexity. In its search for timber supplier, Robertson found that only Wiehag was confident of its ability to deliver the roof as designed:
"They had the right attitude. Other firms said 'we've never done this before – how about this as an alternative?' whereas Wiehag said 'we've never done this before but we can find a way'. They had this can-do attitude all the way through," says Anderson.
The roof structure was manufactured and fabricated at Wiehag's factory in Altheim, Austria, and shipped in about 100 truckloads to the site on Speyside between April and December 2016.
The roof rises from an eaves height of approximately 3m to a peak at about 18m over the tallest dome.
The 12,300m2 roof is made up of 1,800 single beams and 2,700 roof elements comprising 380,000 individual components. Four temporary block-laminated glulam columns were used to support the roof construction before it was permanently fixed to the steelwork sub-frame.
"We did suggest using temporary steel columns with hydraulic rams on the ends to provide adjustment, but Wiehag said 'we don't do steel' and supplied glulam columns instead," says Robertson Group's project manager Brian Anderson.
The 1,800 curved beams measure 160mm in width and are finished with a Kerto laminated lumber veneer. The wooden roof deck is made up of box panels, or cassettes, and the frame comprises solid structural timber faced with a 15mm-thick laminated veneer.
In total, the roof incorporates more than 2,700 of these triangular and rectangular cassettes with a top sheathing made from oriented-strand board (OSB).
The building was completed in May of this year and opened in June. "There were challenges everywhere on this job – technical, logistical, commercial – but we finished on programme and on budget," says Brian Anderson.
He adds:" This was certainly outside our normal skill-set, but it's been a great platform for us." Several prospective clients visited Speyside to see the project in progress, says Anderson. Robertson Group now forecasts a 25% increase in turnover largely as a result of the success of the Macallan project.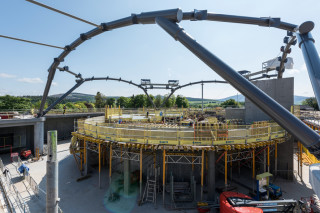 Why engineered timber?
The UK is not an enthusiastic consumer of engineered timber frames, says John Spittle, Wiehag's UK representative. "In northern Europe, we sell about 83,000m3 a year; in the UK it's about 5,000m3," he says. "My job it to try and encourage UK customers to be more imaginative."
As at the Macallan Distillery, engineered timber is often chosen in the UK as an architectural feature; but there are sound practical reasons for specifying the material, says Spittle.
Timber's renewable credentials tick the sustainability box for many commercial and industrial clients, says Spittle: "Zero carbon always helps with planning," he observes.
For this reason, he says "retail is a strong market – even in the UK. Tesco has 28 glulam-framed stores".
In continental Europe, glulam frame is "a bread-and-butter" option says Spittle. "It's widely used in factory building. Precast concrete columns with glulam beams and timber frame is a cheap option. On anything above 12m clear span, timber is more cost-effective." Curved glulam beams are also cheaper to manufacture than the steel equivalent, he says.
Timber's high strength-to-weight ratio makes it a popular choice in exhibition halls, where they are routinely used to create 100m clear spans.
Energy-from-waste plants also favour glulam, partly for reasons of sustainability, but also for its technical performance. "These plants often generate corrosive atmospheres which can attack steel frames," says Spittle. He cites the Cross Green renewable energy plant in Leeds, which features huge glulam arches (supplied not by Wiehag but by German rival Hess).
Nevertheless, Wiehag has supplied several high-profile projects in the UK. "There's nobody making glulam on any appreciable scale over here. It's all supplied from Europe," he says.
Among its most high-profile jobs are two Elizabeth Line (Crossrail) stations: Canary Wharf, whose 300m-long Norman Foster-designed canopy is a local landmark, and Abbey Wood with its roof resembling a manta ray, built by Balfour Beatty and opened two years ago.
"On both of these jobs, cost was the deciding factor in the choice of material," says Spittle.
This article was first published in the July/August 2018 issue of The Construction Index magazine, which you can read for free at http://epublishing.theconstructionindex.co.uk/magazine/july2018/
UK readers can have their own copy of the magazine, in real paper, posted through their letterbox each month by taking out an annual subscription for just £50 a year. See www.theconstructionindex.co.uk/magazine for details.
Got a story? Email news@theconstructionindex.co.uk