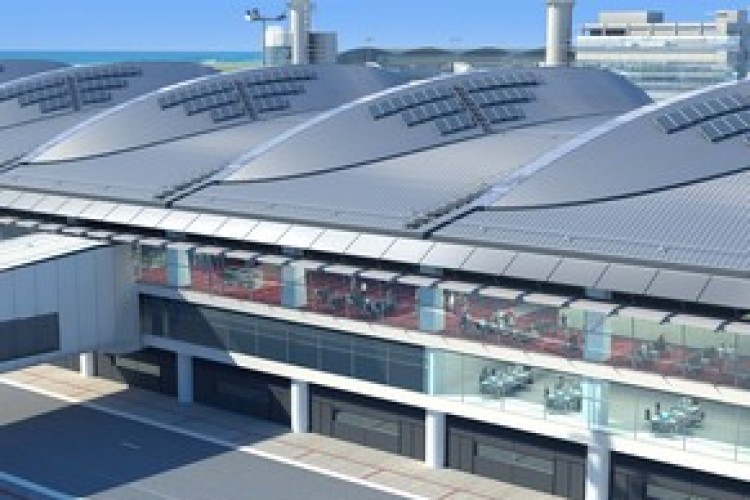 The Midfield area is the last piece of airside land available for large-scale development on the airport island. The project was unveiled earlier this year and AAHK has worked with consultants Arup and Mott MacDonald, supported by Aedas to finalise the design. These include expanding the size of the concourse and its adjacent apron area, as well as incorporating a green initiatives, such as installation of one of the largest arrays of rooftop solar panels in Hong Kong.
As a result, the Phase 1 of the Midfield project now includes the construction of a five-level concourse with total floor area of 78,000m2; 20 aircraft parking stands; an automated people mover extending from Terminal 1; a cross-field taxiway; and other supporting facilities. Phase 1 is scheduled for completion by the end of 2015.

Secretary for transport and housing Eva Cheng said: "Today we witness the kicking off of the construction works of the first phase of the midfield expansion development. With the completion of the expansion in 2015, we will be able to handle 10 million more passengers per year and provide more parking stands for both passengers and cargo operation. This is an important addition to the infrastructure inventory of the Hong Kong International Airport. Having regard to the increase in the air traffic demand, the midfield expansion project will be developed in phases to increase the airport's handling capacity to about 70 million  passengers and six million tonnes of cargo, which is expected to cope with air traffic demand by 2020."
AAHK's chairman Dr Marvin Cheung Kin-tung said: "While the phase 1 project development is to help HKIA cope with the increasing passenger traffic and needs for parking stands in the medium term, our efforts to pave the way for our long-term development continue. We recently completed the three-month public consultation on the airport's Master Plan 2030, and we remain on course to submit our recommendations to the Government before the end of this month."
Got a story? Email news@theconstructionindex.co.uk