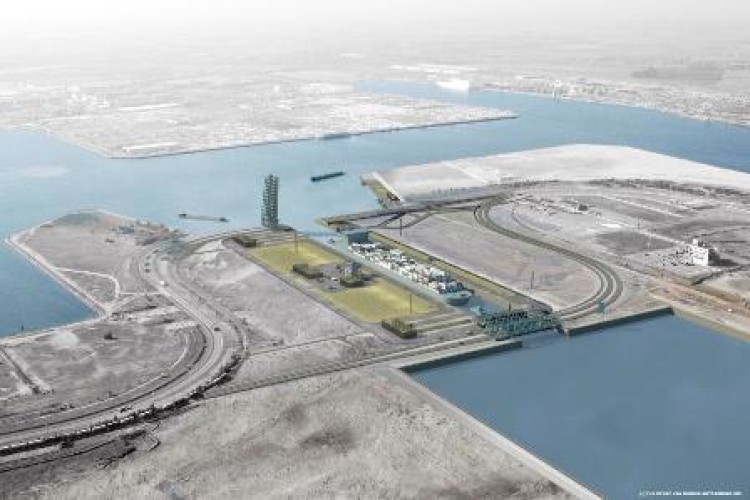 The lock will be the biggest in the world and 255 people will be working daily to build it.
The work on the lock will take 53 calendar months and be carried out by an ad hoc consortium consisting of five contractors: Jan De Nul, CEI-De Meyer, Betonac, Herbosch-Kiere and Antwerpse Bouwwerken. Excavation work is expected to take until the summer of 2014. From then until the end of 2014 the contractors will be engaged in the concreting work. Throughout the whole of this time, work will be carried out on the steel structures. Work on building the lock itself will start in the autumn of 2013 and is due to be completed in the spring of 2015. The final dredging work is scheduled from the end of 2014 until the end of 2015, and the lock is due to open at the beginning of 2016.
The new lock will be at the end of the Deurganck dock and will provide the link to the sea between the Scheldt and the Waasland Canal. It will give shipping rapid access to all other docks on the left bank: the Doel dock, the Verrebroek dock, the Vrasene dock and the North and South Insteek dock. 
The design of the new lock will be based on that of the Berendrecht lock, which currently holds the title of biggest lock in the world. Like the Berendrecht lock, it will be 500m long and 68ms wide. The new lock – at 17.80m below the local datum level – will be deeper than the Berendrecht lock and thus rank as the biggest lock in the world when it opens in 2016.

Some 9.1 million cubic metres of earth will be excavated. Just under a third of this will be reused to backfill behind the quayside walls. The remainder will be used for further filling in of the Doel dock. Some 22 000t of structural steel will be used, three times the amount required to build the Eiffel Tower. A total of 795,000m³ of reinforced concrete will be needed – enough to cover a football pitch to a height of 106 metres. The 57,000 m² of sheet piles that will eventually be used by the contractors would be enough to cover 80 football pitches.
Precision engineering will be required and the four lock gates must close perfectly and the mechanism for the project's bridges must be accurate to within a millimetre.
The lock will improve maritime access to the port, and help in further development of multimodal and sustainable goods transport, seen as benefitting the port, Flanders and Europe.
In recent years the development of the Port of Antwerp has been concentrated on the left bank of the Scheldt. Planned projects include the lengthening of the Verrebroek dock and the development of the Saeftinghe zone and so a second point of access to the sea was needed. "The second lock is key to the further expansion of our port on the left bank of the Scheldt", said alderman for the port, Marc Van Peel. "With a second lock and the deepening of the Scheldt completed last year, the Antwerp Port Authority is responding in an appropriate manner to the increase in the scale of shipping traffic and we are maintaining our position as the number two in Europe."
Got a story? Email news@theconstructionindex.co.uk