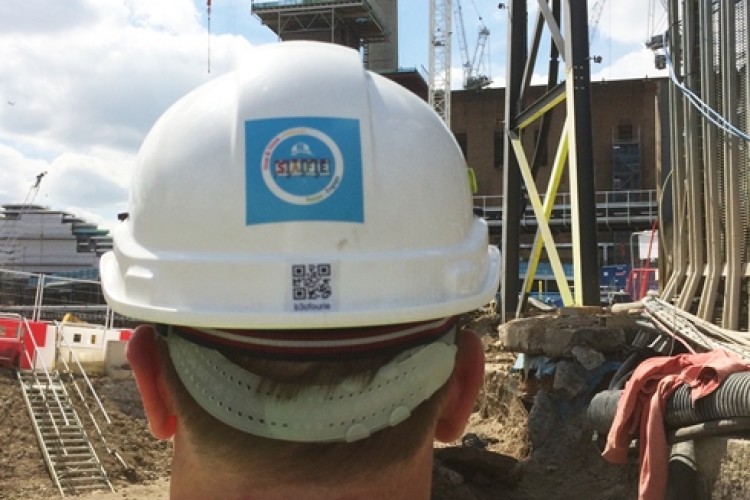 Scanning the QR (quick response) code with a smart phone gives access to personnel files with proof of identity, training history, medical details and emergency next-of-kin contract details.
Civil engineering and utilities specialist Blu-3 (UK) believes that the quick response (QR) code-based identification system, developed with Olive Media, improves site safety.
Working alongside Olive Media, a leading production organisation, the company has rolled out an innovative solution for checking individual staff competencies on its project sites in real time.
Access to data is restricted to those who have downloaded the bespoke Blu-3 app, but those with the app can access a company-wide database of employees and subcontractors.

Sarah Persad of Blu-3, who has led the development of the system, said: "This really is a breakthrough solution for ensuring staff are appropriately trained and certified for the roles they carry out on a site. Previously, if an employee was observed carrying out hot works one day and then driving a forward tipping dumper the following, the observer (potentially a client or site manager) could only assume that he or she had the appropriate training for both roles. They can now simply scan the worker's hat and check that the appropriate training and accreditations are in place, resulting in real time, quick and easy competence checks."
She added: "The beauty of the system is that the complete training record of a worker is held alongside their medical and emergency contact details, which is in full compliance with current data protection requirements. This system enables us to ensure that our 'boots on the ground' are competent to do the task and we know exactly who is on site, which is particularly critical in today's security conscious environment."
Preconstruction director Lee Lawrence added: "The training identification system stores records of an employee's training history from CSCS and First Aider to Asbestos Awareness, Confined Space Training and PPE Awareness.
"We are continuing to develop the system adding more capability to support managers and supervisors on site and will be rolling the app out across its sites in the UK and Europe. We're excited by the potential of the technology and know that it increases a contractor's ability to manage its workers and maximise its health and safety awareness – a key must for all responsible companies."
Got a story? Email news@theconstructionindex.co.uk