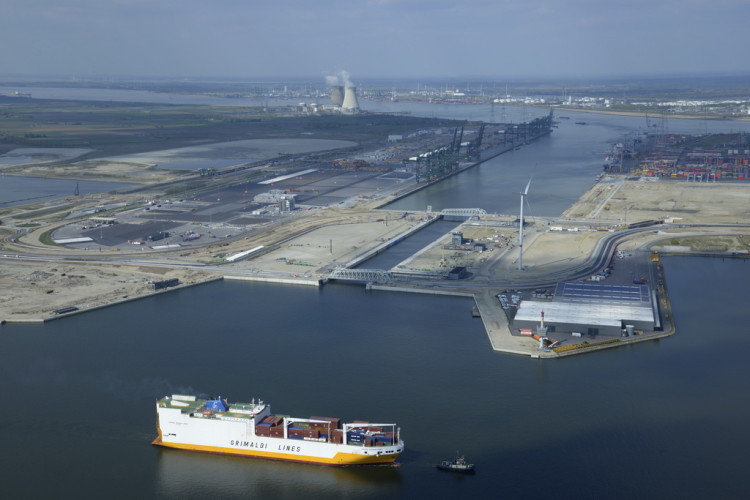 The Kieldrecht lock at the Port of Antwerp in Belgium is 500m long, 68m wide and 17.8m deep. The opening ceremony was led by King Filip of Belgium, Flemish minister for transport and mobility Ben Weyts, European Investment Bank president Werner Hoyer and Port of Antwerp president Marc Van Peel.
The €382m (£301m) lock was built in less than five years – well within the planned schedule - by Tijdelijke Handelsvereniging Waaslandsluis, a consortium comprising Jan De Nul, CEI De Meyer, Betonac, Herbosch-Kiere and Antwerpse Bouwwerken. Other organisations involved included Geotechniek (soil research and monitoring) and Flanders Hydraulic Research (Waterbouwkundig Laboratorium), which studied the impact of the current on the construction work and trained pilots in a simulator.
"The Kieldrecht lock embodies some of the goals of a Union seeking more growth, competitiveness and jobs," said Hoyer. "As Europe is slowly stepping out of the economic crisis and so as to make sure that our single market and international trade prosper, we need a connected Union, without barriers, with efficient, viable and sustainable transport infrastructure and networks."
The Port of Antwerp is located on three core network corridors – the North Sea Baltic, the North Sea-Mediterranean and the Rhine-Alpine corridors. As such, it is an important node of the EU Trans- European Network (TEN-T).
Got a story? Email news@theconstructionindex.co.uk