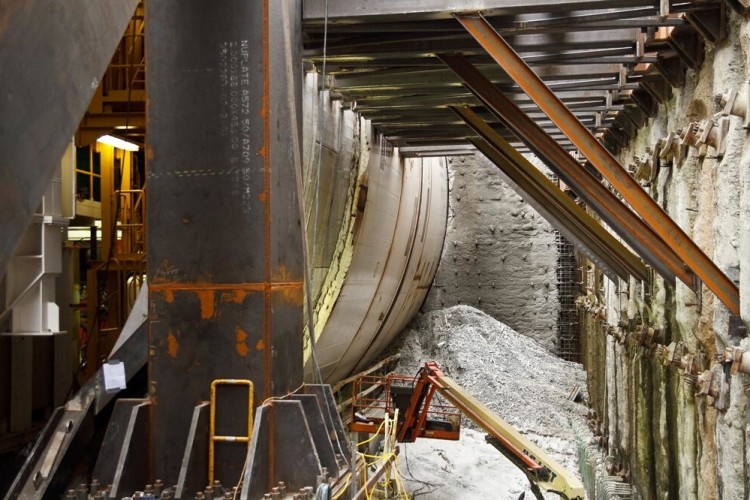 The US$2bn SR 99 project will build a tunnel featuring a two-level roadway to replace the ageing Alaskan Way Viaduct along Seattle's downtown waterfront un the US state of Washington. The SR99 tunnel's 17.5m excavated diameter will make it the world's largest TBM-bored tunnel.
The project is being carried out by Seattle Tunnel Partners, a joint venture of Dragados USA and Tutor Perini Corporation. HNTB Corporation is lead designer for the Washington State Department of Transportation scheme.
The nearly 7,000t TBM was assembled and launched in an 24m-deep launch pit west of Seattle's sports stadiums.It will take approximately 14 months to complete the 2.8km route under Seattle, emerging about four blocks east of the Seattle Space Needle. Bertha will pass under 154 buildings, as well as utilities and other infrastructure. Washington State Department of Transportation is providing extensive information about progress of the 99.4m-long, 17.5m-diameter machine, including maps and diagrams of her route.
Bertha told her Twitter followers about the breakthrough, which followed the start of digging two weeks ago. She has explained that she is taking things slowly and travelled just 3.4m in her first week, so "the below-land speed record (if such a thing exists) is likely safe for now".  Bertha's profile describes her likes as 'dirt, boulders, perfectly formed concrete rings' and her dislikes as 'sunlight'. Her role models include Thames Tunnel engineer Marc Isambard Brunel and 'whoever invented the shovel'.
The tunnel will be open to traffic in December 2015.
Got a story? Email news@theconstructionindex.co.uk