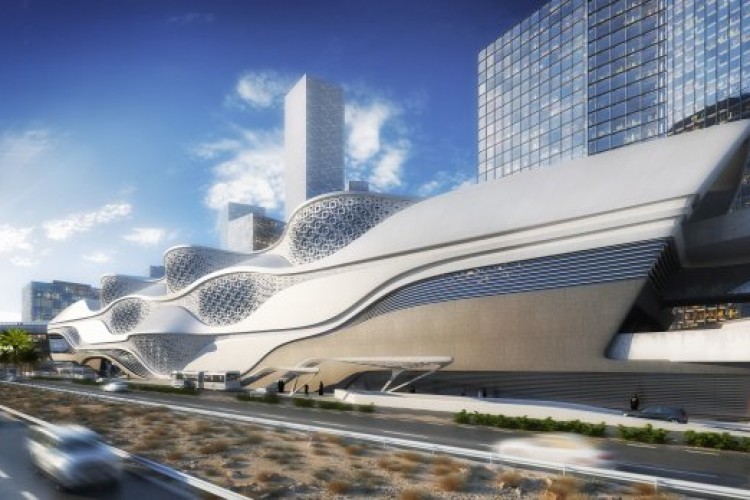 The 20,434m2 King Abdullah Financial District Metro Station will serve as a key interchange on the network for Line 1, as well as the terminus of Line 4 and Line 6 of the new Riyadh metro.
The design places the station at the centre of a network of pathways, skybridges and metro lines envisaged  by the KAFD master plan.
The resulting configuration is a three-dimensional lattice defined by a sequence of opposing sine-waves which act as the spine for circulation around the building. These sine-waves are extended to the station's envelope so that the concept is also visible externally.
Other stations
Architects have also been selected for two other stations. Gerber Architekten from Germany has been awarded the Olaya Metro Station and Snohetta from Norway has the Downtown Metro Station (Qasr Al Hokm).
The ADA appointed Gerber Architekten from Germany to design Riyadh Metro's main station at the intersection of Metro Lines 1 and 2. The station will be located between Olaya Street and King Fahad Road, close to the Kingdom Tower and King Abdullah Road.
The station design (pictured below) creates a new public plaza integrated within an iconic city-centre development. Inside the station, a large, open entrance hall allows visitors to see across all four storeys of the building, including the two metro lines, a mezzanine level with shops and food halls, and an open concourse housing the ticket barriers.

Snohetta from Norway has been appointed to design the main Downtown station at the intersection of Al Madinah Al Munnawarah Street and King Faisal Street, in the Al Doho quarter. The station will serve as a transfer point between Metro Lines 1 and 3, as well as integrating with the bus network, like all the main stations.
The Downtown station design (pictured below) has a large canopy creating a shaded plaza and allowing natural light to filter to the underground concourse. The station also respectfully houses Eid Mosque at the south-west corner.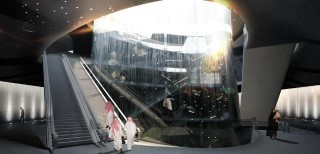 The Riyadh Public Transportation network is the world's largest urban transport project in development. It includes six underground, elevated and at-grade metro lines, three Bus Rapid Transit lines, a circular city-centre bus route and community bus services. Park and ride facilities will serve many of the stations around the city. In total, Riyadh Metro will have 85 stations, plus over 500 stops on the bus network. King Abdullah has instructed the new Riyadh Metro be completed in four years.
Khalid Hazzani, director at the Arriyadh Development Authority, said: "The selection of station designs is an exciting milestone for Riyadh Metro. These iconic landmarks will transform the city streetscape. They will not only provide elegant interchanges for one of the most advanced public transport systems in the world, but also provide new public spaces for shopping, eating and working. Riyadh Metro is benefitting from world-leading design expertise, ensuring Riyadh remains at the forefront of sustainable urban design."
Got a story? Email news@theconstructionindex.co.uk