Based at Blaenavon in South Wales, GOS specialises in converting OEM machinery for railtrack working to meet Network Rail, London Underground, Irish Rail and other worldwide engineering specifications, standards and approvals.
The arrival of a new 17-tonne Doosan DX170W-5 wheeled excavator (pictured above) coincides with the company's 50th anniversary. Adapting this 100th Doosan machine is the latest development in a relationship between GOS and Doosan that stretches back to the days of the Daewoo range, which was the forerunner to the current Doosan excavator range. As well as the DX170W-5, GOS also makes products based on the Doosan DX140LCR-5 15 tonne crawler excavator.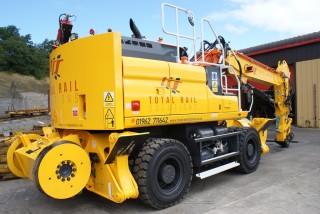 GOS director Neil Gregory says: "Two of the key aspects of rail equipment are lifting capacity and hydraulic flow and we have found the specifications of Doosan excavators are the best in this respect, providing us with ideal base machines and the optimum adaptability for adding piling, lifting and digging equipment for us to produce a wide range of equipment solutions for the rail industry."
GOS engineers have made two visits to the Doosan excavator plants in South Korea in the last six years, working closely with Doosan engineering and manufacturing teams on the specifications of the machines to be supplied to GOS.
The specially prepared Doosan excavators arrive without counterweights and supplied with the appropriate additional components and services to meet GOS specifications, ready for the extensive modifications needed to convert them into products such as the DX270HS rail excavator with long dipper and the GOS flash-butt welders which are both based on the DX170W-5 excavator.

A range of optional equipment can be fitted, including: a twin operators cab; extra hydraulic services; the ability to work under live OLE; hydraulic and air trailer braking outputs; offset booms; MEWP basket attachments; fire suppression systems; 'tandem lift' capability; a rear facing CCTV system; and rail lifting accessories.
I can also reveal that Doosan and GOS are hoping to extend their collaboration further with others types of bespoke machines, such as high reach excavators for the demolition industry and long reach excavators for coastal and river work.