The new models include 14 EC140D and six EC220D excavators, taking the total number of Volvo machines in the Lynch fleet to over 200, sitting alongside A25, EW140, EW210, EC290 and EC360 models.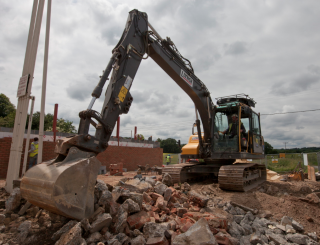 "We have been buying Volvos for the last 10 years," says Merrill Lynch, operations director with L Lynch Plant Hire. "There is no doubt that it is a solidly built, premium product, which always rewards us with strong residual values. Our operators and our customers' operators like them too – and they're very good on fuel and deliver excellent productivity."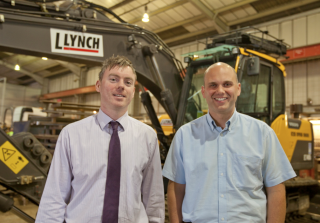 Operations Director Merrill Lynch (left) with Volvo's Area Business Manager Ryan Hollebone
"We're currently experiencing huge demand for our equipment across the Midlands," he explains. "This, combined with the recent opening a new depot in Bridgwater during the last 12 months, has really helped to boost our market coverage, though we've needed to increase the hire fleet to meet this demand."
Lynch's 20 new D-series excavators are equipped with the very latest Stage IIIb emissions compliant engines, using DOC and DPF exhaust after-treatment solutions, and avoiding the need for additional fluid – AdBlue – that has been highlighted by Lynch's hire customers as a potential area for concern.

The new D-series also suits contractors' stipulations for the cleanest machines available – those that don't comply would now be turned away from many inner city job sites, states Lynch.
Since the business was started in 1980, the company has evolved to become a multi-faceted plant hire and haulage operation that currently employs over 500 people in a nationwide structure.
While the firm meets demand in Wales and Scotland with direct solutions from its Stanmore head office, a regional depot in Rushden, Northants, takes care of midlands and the northern regions, while a recently opened depot in Bridgwater, Somerset, now services the south west area.
"Returning customers often ask for a Volvo excavator, and where possible, we will meet a specific request," he says. "It all comes down to providing customers with the perfect package – that of supplying the right machine and operator in a safe, cost-effective, efficient manner."