The first JCB telehandler was launched in 1977 as the JCB 520 (above). It was a two-wheel drive machine with a 6.4-metre lift height and a maximum lift capacity of 2.25 tonnes. Until that time contractors had lifted materials with masted rough terrain fork lifts, backhoe loaders and loading shovels. Over the years the JCB Loadall range has expanded beyond recognition, to incorporate machines with working heights of up to 20 metres and maximum lift capacities exceeding six tonnes.
From that early two-wheel drive 520 model the range grew rapidly, with the addition of the heavier lift 525 in 1980 and the lighter second generation 520-2 and 520-4 in 1981, the latter introducing four-wheel drive and larger rear wheels for improved traction on construction sites. These models were also notable for the introduction of JCB's Q-fit implement carriage, which allowed operators to work with a range of bucket and attachments, as well as pallet forks.
The Loadall name was adopted in 1982. At that time JCB had introduced its own slick-shifting Synchro-Shuttle transmissions, while servo controls levers were added in 1986, making life easier for the operator, particularly in repetitive handling and loading operations.
Though by now well established, JCB completely overhauled the concept in 1989 with rear-engined models incorporating multi-mode steering, with equal-sized wheels all round for improved travel comfort and manoeuvrability. In addition to front-end two-wheel steering that made it easier to pilot a Loadall along the road, drivers could enjoy pirouetting in tight circles with all wheels steering or even shuffling sideways in crab-steer mode, to get out of an awkward corner or take the edge of a bucket along the edge of a roadway.
Mid-engine installation enabled lower boom mounting, improving visibility to the rear. However all-round visibility remained an issue with telehandlers so in 1997 JCB moved the engine in its machines to a side-mounted position, between the wheels. This allowed a further reduction in the height of the boom pivot for even better visibility over the right hand side and to the rear three-quarter, while providing unmatched service access to the power unit and cooling pack.
In 2006 JCB become the first telehandler manufacturer to rack up 100,000 units produced. Annual sales were such that an £8 million investment in manufacturing resources and a second assembly line at the Rocester headquarters factory brought improved production efficiency and flexibility, and substantially increased capacity.
In 2008 a new side-engine, high-boom design was introduced for the North American market. In 2009, JCB built on its experience with hydrostatic drives in mid-engined compact handlers to develop the 527-58. As the first compact side-engine Loadall with hydraulic propulsion, this machine offered a combination of size, manoeuvrability, driving ease and loading/handling performance.
Developments in the past five years include the 4.4-litre EcoMAX engine and the heavyweight 550-80, an 8-metre lift machine with a 5 tonne capacity, designed primarily for waste handling and farming. The 2014 launch of the 560-80 took maximum lift capacity to 6 tonnes, while the 540-200 introduced a 20-metre lift height with its five-stage boom.
Today, the Loadall engine has a compact exhaust silencer and selective catalytic reduction (SCR) system under its bonnet to meet the Euro Stage IV and US Tier 4 Final emissions regulations.
THE JCB LOADALL TIMELINE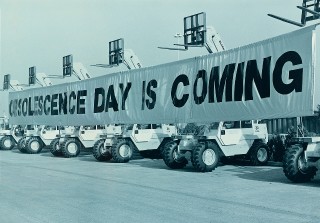 1977 JCB 520 two-wheel drive telescopic handler launched with 2.25 tonne maximum lift and 6.4m lift height. Heavier lifting 525 added in 1980.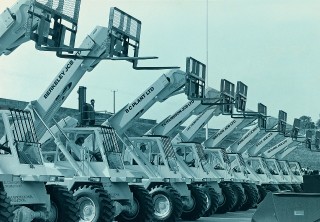 1981 Lighter second-generation JCB 520-2 and 520-4 launched, introducing four-wheel drive and larger rear wheels for improved traction and flotation, and the Q-fit implement carriage.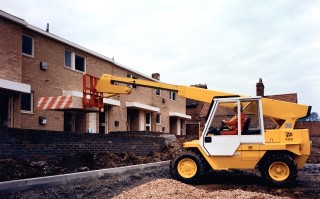 1982 'Loadall' name adopted for the JCB telescopic handler range.
1985 Launch of JCB 530 Loadall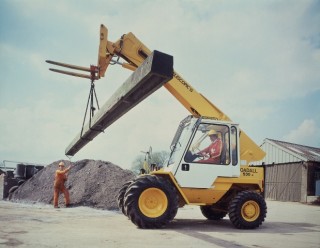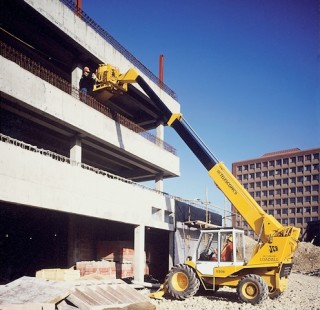 1986 JCB Synchro Shuttle transmission provides slicker gear shifts and faster travel speeds.
1987 Light-touch JCB Servo joystick control system introduced.
1989 New generation JCB Loadall 525-58 and 525-67 launched with mid-engine installation and lower boom pivot improving rearwards visibility. Equal size wheels and multi-mode steering transform manoeuvrability and traction.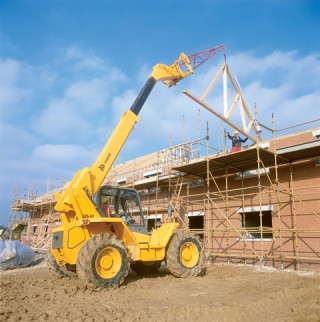 Also introduced this year is the 530-110 Loadall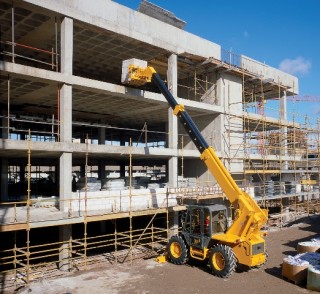 1994 Loadall 527-67 unveiled.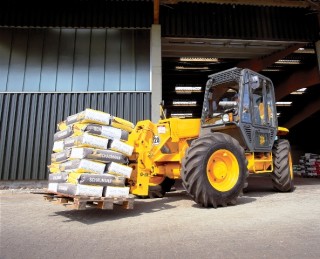 1997 First side-engine Loadall 530, 540, 532 and 537 models launched, providing first-rate powertrain access and further improved right-hand and rear three-quarters visibility.
1998 Loadall 528-70 is launched.
2001 JCB's biggest Loadall to date, the 540-170 was introduced, offering a 16.7-metre lift height from a four-stage boom.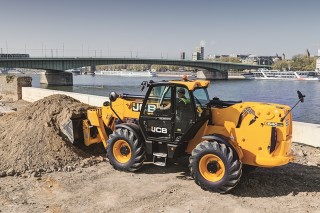 2003 Launch of the 527-55...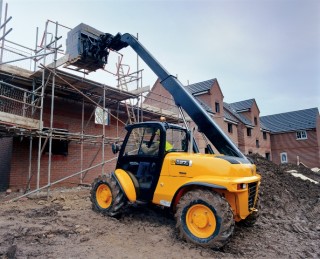 ...and the 524-50
2004 JCB introduces its first 535-140 with 14 metre reach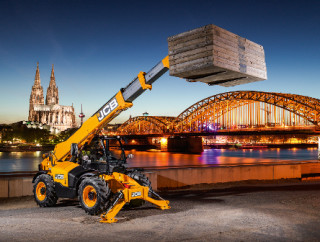 ... and the 535-125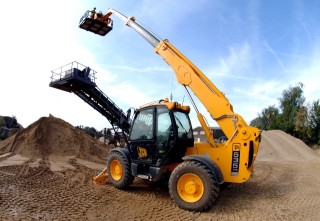 2005 First JCB engine – the 4.4-litre, 100hp mechanical fuel injection Dieselmax – installed in rear-engined Loadalls.
2006 JCB Dieselmax engines set a new land-speed record for a diesel-powered vehicle and Loadall becomes first telescopic handler brand to reach 100,000 units production milestone.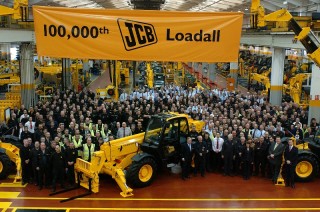 2008 A specially adapted 506C Loadall goes to work in Antarctica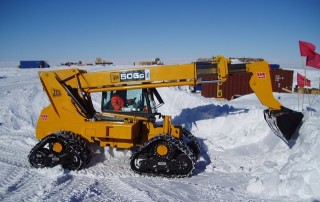 2009 Launch of the first compact hydrostatic drive side-engine Loadall, the 527-58 with 2.7 tonne lift capacity and near-6m lift height in a compact and highly manoeuvrable package.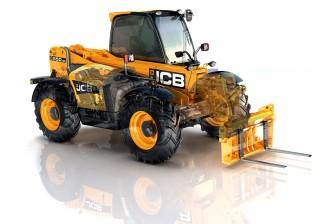 2010 A JCB Loadall unexpectedly grabs some of the limelight at the British Grand Prix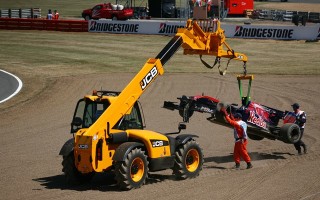 2012 New JCB EcoMAX engine with variable geometry turbo introduced in 4.4-litre litre size, bringing a 55kW option to the Loadall range.
2013 JCB's highest lift Loadall, the 540-200 launched, with 20m five-stage boom. Ultra-compact hydrostatic drive Loadall 525-60 HiViz launched.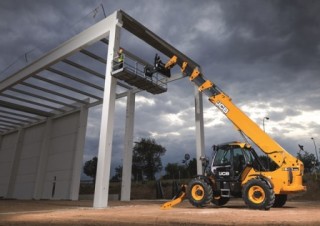 2014 Smart Technology package on Wastemaster machines includes regenerative lift cylinder hydraulics speeding up loading cycles by up to 20% or cutting fuel consumption by 15%.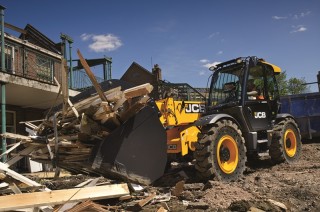 2016 Loadall goes to the Oscars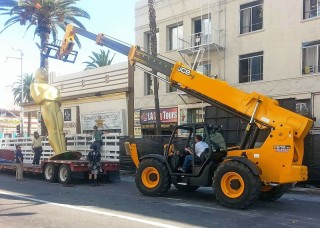 ... and Loadall production hits 200,000 units.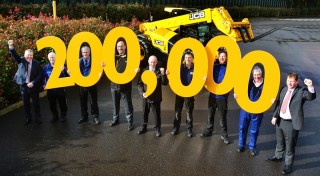 Pictured above are Loadall managing director Ian Pratt (extreme left) and operations director Paul Grys (extreme right) joining with employees (left to right) Ian Vickery, Cliff Ferrie, Mick Smith, Dave Bailey, Nick Miller, Paul Stockley and Richard Jenkinson in celebrating the 200,000th Loadall milestone.