The machine which is a 420E IT model and features the traditional American centre mount backhoe design, was supplied to Texas based CF. Construction by local dealership Wagner Cat. The proud owner is seen here trying out his new machine at the factory.
This latest milestone is yet another credit to the Desford facility, which is considered a centre of excellence for backhoe loader design and manufacture. The Leicester plant was chosen to assemble the new 416 backhoe loader back in the summer of 1983. On September 7th 1985, Caterpillar launched its first commercially available backhoe loader which was indeed a 416 built at the Leicester BCP facility, which was sold to a customer in New Jersey, USA.
In spite of a late entry into the Backhoe Loader market, the last 26 years have seen Caterpillar's share in the Backhoe Loader industry grow considerably. This unique machine has become a vital product in the Caterpillar BCP portfolio. The Cat Backhoe Loader has evolved throughout this time, providing customers with a solution to their ever growing needs and no doubt, will continue to do so.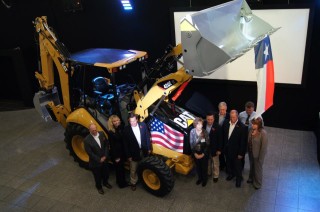 Since manufacture of the Caterpillar backhoe loader began in 1985, the company has gone on to produce a total of 5 series of the multi purpose machines, each more innovative than the last, introducing industry firsts such as the True-Excavator style boom for excellent clearance over objects, which is still a signature trademark of the Cat backhoe, and on certain models, standard pilot hydraulic joysticks, increasing operator comfort. In respect to other leading manufacturers, the Cat backhoe Loader over the last 25 years has sold just under a quarter of a million units world wide taking considerable market share in a relatively short amount of time.
The Digger Blog wishes CF. Construction all the very best with the new machine, and we would love to see some photos of this smart looking backhoe loader at work when it arrives in Texas.