When a crawler extractor, weighing approx 70t with 463 hp capacity, was designed specifically for heavy earthwork, then works in extraction operations, the application profile of the machine is clearly defined.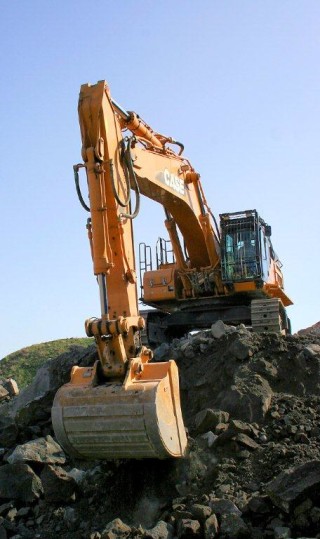 Huge tear-out forces of 224kN, extremely fast loading and a modern engine and hydraulic management meet all the requirements for enormous handling performance. However, things in the Dockweiler pit are somewhat different. A decisive factor for the acquisition of the power pack from the Case CX family was not its special performance in large-scale extraction, but rather the successful combination of very powerful hydraulics, robust construction and extremely sensitive steering. These special requirements for the crawler excavator result from the particular operational situations in the basalt and lava pit in Eselberg, which is relatively close to the local borders of Dockweiler, and has guidelines for nature and landscape conservation.
Senior manager Peter Backes explains: "We took over the Dockweiler pit about 3 years ago. Until then, relatively unregulated, more haphazard extraction took place here. Then we began to examine the deposits in order, then we removed the abandoned contaminated sites and introduced sustainable management.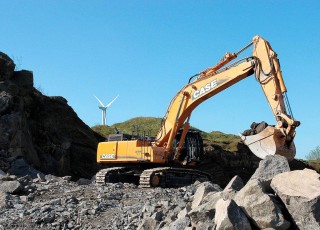 First of all, it was necessary to provide our road construction operations with the required installation materials and aggregates. We never forgot our goal to promote extraction, which is as sound and sustainable as possible, with minimum impact on the local residents. The biggest problem in extraction is, of course the detonations which are necessary in order to access the material. And this is where our new CX700B comes into play, by using the machine we can significantly reduce the number of necessary detonations and their depth.
Today we go with boreholes which are only 4-5m deep. This means that the impact of the firing processes is considerably reduced. The excavator has such high tear-out forces that it can clear lighter covering material on its own, for the most part. It can also easily break out material on the standing wall with the pressure of the scoop tip, and can even crush it if the structure of the rock has been sufficiently loosened by the detonation. This makes it much easier to follow the workable layers in a targeted way, without unnecessarily digging up the countryside."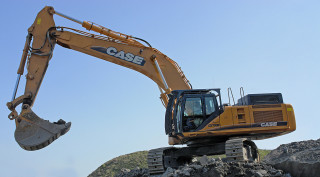 Excavator operator Helmut Wölwer is completely satisfied with his 'Piter II', as the CX700B was named after the head of the company. "We don't need to talk about engine power here. It's simply there when you need it. The steering is precise and comfortable to operate, and you can set the scoop precisely to the centimetre.
The levers have a direct response which means that I can arrange the biggest blocks so that I can lift them securely and load them onto the dumper." These pieces of rock, mentioned by Helmut Wölwer, are basalt and lava blocks directly broken out of the wall, with an irregular form and a weight easily reaching 5 to 6 tons and more.
This is no particular challenge for the heavy excavator with its lifting capacity of over 30 tons and a wide undercarriage, but in order to avoid expensive repairs to the crushing plant, which is designed for processing sizes up to a ton, larger blocks are separated and crushed by a second excavator with a hydraulic hammer. The material is then loaded onto an articulated dumper and transported to the crusher.

"When working with heavy loads directly at the wall, it is good to have the solid ROPS/FOPS protection. After all, a rock can slide down from above at any time, or one of the bulky blocks can slip out of the scoop, if I really swing the upper carriage, so obstacles must be avoided by lifting. It is great to have a cabin where you can feel completely secure. You also have plenty of space, with particularly easy access, and handholds and steps for safety".
In total, the company Backes Bau- und Transporte GmbH operates five lava and basalt quarries, with a total area of over 100 hectares. The material obtained is used for self-supply, and is brought to the respective construction sites on their own trucks, and installed there. Peter Backes estimates the annual output as approximately 200,000 tons. The planning objective for the Dockweiler pit has a very long-term nature, with management of 50 - 100 years.
Long-term planning and sustainable economic activities are then also important features of the Backes group, as sales consultant Ewald Hehn from Tecklenborg Baumaschinen in Koblenz describes his client: "Although Backes group now employs over 300 people in the construction sector alone, and since its founding in 1946, has grown to a modern organisation with very different business divisions, in the areas of civil engineering, construction of roads and passages, transportation, building material and recycling. It is still a typical family business with strong regional connections, with the second and third generations now working there. There is therefore a natural interest in maintaining the economic basis for future generations. Nothing is wasted or needlessly thrown away here in the Eifel region. We are careful with what we have, so that our children and grandchildren can also benefit from it.
The Digger Blog got up close and personal with a Case CX700B at last years Bauma trade fair in Munich, being a big fan of the Case CX range I was delighted to see this large machine in the flesh.
The new CX700B fits into this concept brilliantly. It is powerful, reliable, and easy to operate despite its complex control systems, and very easy to maintain. The crucial factor in the purchasing decision was the positive experience which we had gathered at Backes with a CX225SRexcavator and a large wheel loader of the 921E type.
Working closely with the Case factory branch in Groß-Gerau, we were able to organise the delivery of the new CX700B at the end of last year."
Senior manager Peter Backes emphasises this statement: "We maintain a machinery inventory of around 60 excavators, 5 bulldozers and 60 wheel loaders. We rely on high quality devices which are generally newly purchased and replaced after the appropriate period of time. With the Case excavator, we knew that we were getting a reliable, powerful machine. This has also been confirmed in recent months. Aside from some adjustments to the pressure pipe fittings and optimisation of the hydraulic setting, which were carried out very quickly and professionally by customer services, there were no problems.
The machine was delivered by the low-loader in an operational state, and since then has worked extremely profitably, and is also very economical and clean for an excavator of this tonnage. Of course, a very welcome side effect of using this heavy machine is that the number of very expensive and damaging detonations could be reduced. Overall, this confirms our decision, and shows that our direction in Dockweiler is correct, and fits in with our company concept."