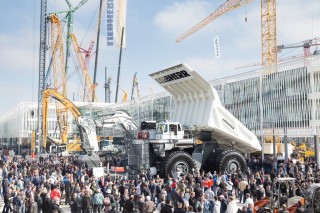 Liebherr's investment in Bauma extends way beyond the 60+ machines exhibited, a third of which were making their market debut at Bauma 2016. It also flies in customers and guests from all over the world, putting them up in hotels that are, for one week only, made criminally expensive.
Among these guests was your correspondent, one of a dozen or so 'social media representatives' ranging from hardened hacks to amateur bloggers. For many of the bloggers it was the first time that a major equipment manufacturer had invited them inside and given them the media treatment usual reserved only for accredited press. It should go down as a landmark moment in the evolution of construction industry media relations.
Liebherr is taking the whole social media thing very seriously indeed. Check out its Facebook page and you will see what I mean. And so it should, given that a Facebook site like Awesome Earthmovers has more than 270,000 'likes'. No printed publication in the construction equipment sector has anything like that kind of reach. The credit for recognising the changing media landscape and driving the creation of Liebherr's own social media team is given to Stefan Heissler, the charismatic former Liebherr GB managing director now on the main group board.
At Bauma 2016, Liebherr's open air area occupies an area the size of two football pitches. Total weight of the machines exhibited, someone has calculated, is 4,000 tonnes. Just for the week they've got in 26,000 pretzels and 22,000 litres of beer for visitors.
The three-storey 14,000 m2 pavilion on the stand is assembled over the course of six months. The 1,000 tonnes of steel and glass from which it is made arrive on 200 trucks.
While most of the machines exhibited travel only from within Europe, some come further. Notably, the massive 220-tonne capacity T264 mining truck that is the showpiece of the stand (its tyres alone are 3.6 metres high) has been shipped across the Atlantic from the Newport News factory in the USA just for the show. It won't be staying in Europe. Machines this size are usually destined for Australia or Canada.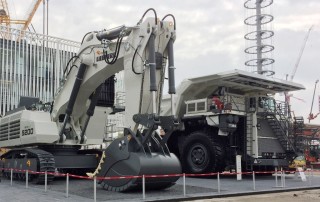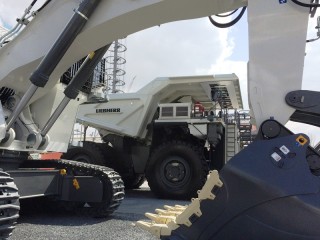 Alongside the T264 (photograhed above during a sneak preview on the day before the fair opened) sits the R 9200, Liebherr's new entry into the 200 tonne excavator class, with a 12.5m³ bucket. Made in France, it is designed to match mining trucks with payloads of up to 140 tonnes. It can fill a 100-tonne truck in five passes. The R 9200 is available in backhoe and face shovel configuration and is powered by the Cummins QSK38 diesel engine that has a rated output of 810 kW (1,086 hp). It drinks 150 litres per hour. The machine at Bauma had the name of an Indonesian customer painted on it, Darma Henwa, indicating where it is set to be put to work. So far, 11 of these have been sold, of which four are now in operation.
Here's the view from the operator's cab of the 9200...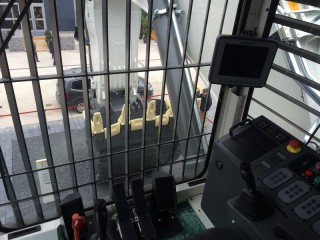 (Of course, compared to the ginormous Komatsu PC7000 also on show, with its 34 m3 bucket, the R 9200 is not so big really.)
The third big machine in 'Liebherr mining white' is the 70-tonne crawler tractor PR 776, also unveiled to the public here for the first time. It has an operating weight of 13,200 to 15,200 kg with an engine output of 93kW (126 HP). The PR 776 has been on trial for the past year or two at the quarry of Austrian sand & gravel supplier Niederndorfer. Owner Klaus Mayr says that fuel consumption is significantly lower than the similar sized Cat dozer that he owns and operates at the quarry.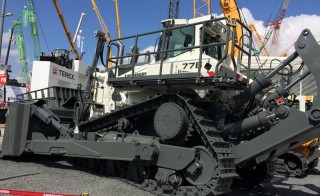 (On a side note, I flew home with a scale model of one of these in my hand luggage. While going through security at Munich Airport, its strange X-Ray prompted the scanner operator to stop the belt for closer inspection of the screen before him. I was ready to have my bag searched until a second security officer leaned over with interest and said in perfect English: "Oh cool, it's the new seven series." This he knew just from the X-ray scan image.)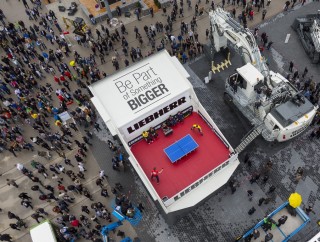 The big stuff at the front of Liebherr's stand naturally draws the crowds, especially when they pull a stunt like getting the top Austrian and German table-tennis players to compete in the back of the mining truck. But most potential buyers are more interested in the yellow construction machinery and cranes behind the pavilion.
Among these is a new series of mid-range hydrostatic-drive wheeled loaders: the L526 (7.7 tonnes tipping load), L538 (9.5 tonnes) and L546 (10.5 tonnes). They meet Euro Stage IV/ US Tier 4Final emissions regs (with claimed 25% fuel savings compared to the competition) and have been redesigned with bigger axles and reinforced steel structures.
I'll resort to a publicity shot of the L546 at this stage because I was unable to keep my hand steady enough to get a decent photo. I must have been excited.
A nice little feature on Liebherr's new wheeled loaders is the option of a remote control clicker key that opens the door and lights up the cab on approach, just like on most cars these days. Handy for the night shift. See, you don't even need to look where you are pointing and the door still opens...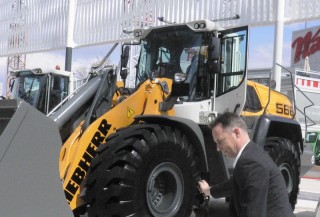 Also on show was the first of a new series of 20-25 tonne crawler excavators that, while not directly interesting to a European audience, reveal something interesting about Liebherr's market strategy. Besides, visitors to Bauma come from literally all over the world. From summer 2016, customers in less regulated markets such as Russia, India, China, southeast Asia or South Africa will be able to buy the R 920, R 922 and R 924 that have been completely redesigned from the ground up to strip out cost without jeopardising quality. The engines meet Euro Stage IIIA, US Tier 3 and China III emissions regs.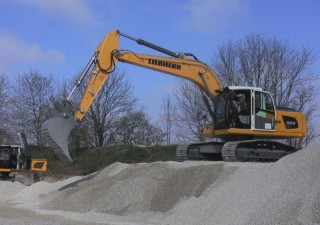 These photos were taken at a site Liebherr had set up just a short rickshaw-ride away from the showground.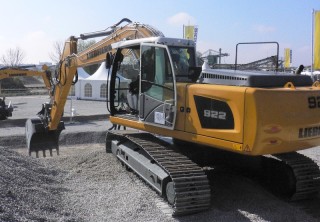 Liebherr says that these French-designed, Chinese-built machines will be 35% cheaper than the previous models that it tried and failed to sell in BRICs markets, where buyers might aspire to Liebherr but are simply not prepared to pay the premium demanded. The new lower cost versions remain slightly more expensive than competing top marques such as Cat and Komatsu, says product manager Frédéric Celauro, but the hope is that Liebherr now at least has a product to compete in these markets.
It must be a tricky business for the Liebherr family to know how best to protect the brand. They do not want to be seen to be deliberately offering an inferior product. Celauro insists there is nothing inferior about Liebherr's BRICS excavators except for the seat (which still felt fine to me when given the chance to get behind the controls on the nearby testing ground). There are also fewer options available, due to the simpler design. There is perhaps an analogy with the introduction of the A-Class Mercedes that proved somewhat traumatic for the Stuttgart car maker in the early days but appears now to have given it a broader-based and more secure position in the market. I hope Liebherr has a smoother ride. As a digger, the new R 922 digs just fine.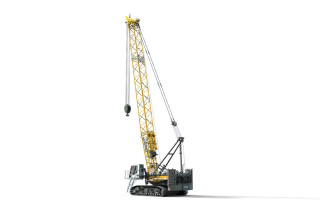 This quest to design out a degree of cost is also evident in the new 100-tonne capacity crawler crane, the LR 1100 (brochure shot seen above). There is a good market for this size of crane in the USA but it is dominated by three (disguised) Japanese products: IHI (badged as Terex); Hitachi/Sumitom (badged as Link-Belt); and Kobelco (badged as Manitowoc, but also available directly from Kobelco too). German crawler cranes (Liebherr and Terex-Demag) sell well enough in higher capacity classes, where there is a more discerning, specialist audience, but 100-tonners are more of a commodity product. The Liebherr price at this size has simply been too steep in the past to reach full market potential.
So the new LR 100 has totally new body design based on a tubular structure that gets cost out. To beef up lifting capacity, there is a new counterweight system that can swing back to move it further away from the centre of gravity. It still has all the Liebherr technology that makes it a Liebherr, but a simpler structure that makes it not only less expensive but quicker and easier to set up. This machine is not being restricted to BRICs markets, however, and has a Stage IV engine as standard. The unit at Bauma is heading for the UK, having been bought by Weldex. It can also be supplied without engine exhaust after-treatment for unregulated markets.
Aside from big iron, there were also more subtle technical innovations to explore on the Liebherr stand, such as the fibre rope it has developed – SoLite – with Austrian rope manufacturer Teufelberger.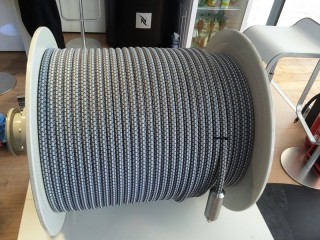 Three-times the price of steel wire rope but 13-times the life expectancy, there is bound to be market resistance from those that put purchase price before whole life cost. But as it is 80% lighter than steel wire rope, the technical benefits will surely win the day. I see it making an especially big impact in lifting at sea. When crane barges salvage something from deep underwater, they need to be huge just to lift an empty hook and all the wire rope up through the water, even before any other load is attached. SoLite fibre rope is actually lighter than water; it is buoyant. A massive benefit in marine applications.
In another development, Liebherr has refined its hydraulic quick coupler for hydraulic excavators.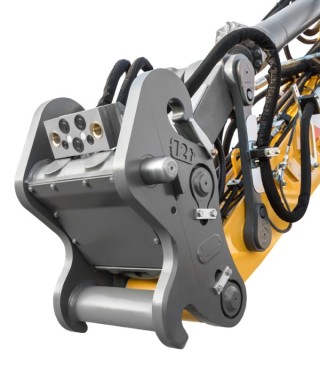 A second proximity sensor has now been added to provide additional safety during the changeover of attachments. With Liebherr's hydraulic quick coupler, the first proximity sensor determines the position of the retracted or extended bolt. It forwards the signal whether the quick coupler is locked or unlocked to the warning buzzer on the display. The new second proximity sensor also monitors the position of the attachment to the quick coupler. If the bolts are extended without the attachment being connected to the quick coupler, a warning tone sounds in the cab and a warning signal appears on the display. It stands out from other status messages with its yellow colour.
Finally, a quick mention of this clever piece of technology on the Liebherr stand, although I'm sure they have simply hired it for the week and is not a Liebherr design.
Alongside this 586 loader is an LED board on casters sunk into a cable trench protected by brushing. As you push the board left it right using one of the metal handles, the display changes to describe all the features of the machine at the point you have placed the board. I liked it.