The JCB 3CII holds a lot of happy memories for me, as it was on these old machines that I cut my teeth as a young trainee operator with my late father, who drove and adored JCB's all his working life. I used to sit in beside my father in one of these and in some earlier models all day, waiting for my chance to have half an hour at the controls at the end of the shift.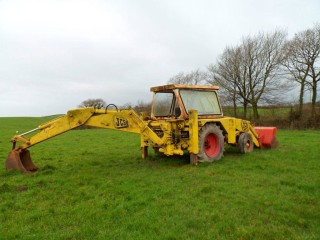 There must be thousands of these old machines still earning their keep on farms and small self build projects around the country and indeed around the globe these days!
I was looking for information on a definitive age for this machine, and by my own admission I don't have "train spotter" style tendencies for fine detail on such matters, so I contacted John Goodsell who appears to have encyclopaedic knowledge on all things JCB for some advice on this machine.

John suggested that if the rear lights are original it might indicate that the machine is a model from 1973 onwards. John also commented that if I could get to see the front axle I might notice if the steering ram is down the side of the chassis it would be an earlier (5 digit serial number model) or if the ram is actually on the axle itself it would indicate a later model (6 digit serial number) model. John concluded another pointer to look for is the vented bonnet, which was fitted from 1975 onwards.
We thank Mr Goodsell for his details on this machine and ask fellow readers, if you spot any make of classic machine lying in a field on your travels we would love to see and share your photos of them on the Digger Blog.