A new Volvo L150G has been supplied to Marshalls Natural Stone Division which takes over as the works prime mover handling stone blocks weighing up to as much as 18 tonnes. To accomplish the task of receiving yorkstone blocks, primarily from Marshall's nearby Scoutmoor Quarry, sorting, stacking and feeding the cutting shop, the L150G has been supplied complete with a hydraulic quick fit; a set of bespoke heavy duty block handling forks, an additional set of conventional pallet forks and a 4.2m³ rehandling bucket. In order to cope with the typical weights and size of the blocks an additional counterweight has been added and the machine runs on Michelin L5 XLDD2A tyres.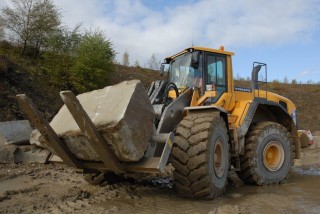 Replacing a telehandler the new L150G has settled in well to the three shifts, 24 hour - five day working week. "Although we operate Volvo shovels at other locations, this is the first time we've had one here at Cromwell," says Production Manager Nigel Buchan. "So far the machine is doing everything that's asked of it and our operators are pleased with the level of comfort in the cab and the performance of the machine."
The L150G wheeled loader weighing in at twenty five tonnes is firmly in charge of the block handling activities at the Cromwell site which processes on average 800 to 1000 tonnes of stone per week. Featuring a 13 litre Stage IIIB compliant 300hp engine, optishift transmission and axles all designed and manufactured by Volvo, the L150G has a 20% increase in lifting force and 10% increase in breakout force over its predecessor. This coupled to the engine output with high torque at low engine rpm has resulted in faster cycle times and increased productivity. Two stronger, variable displacement load-bearing axial piston pumps and hoses have been introduced to handle the increased pressures. These provide superior control of the load and attachments, as well as high breakout force, faster lifting and tilt functions. A new hydraulic cooling system has been designed to reduce the working temperatures by up to 20oC over the F series model. Fuel savings are further enhanced by the Volvo Eco pedal encouraging the operator to run the machine at its optimum rpm in the engine's torque curve.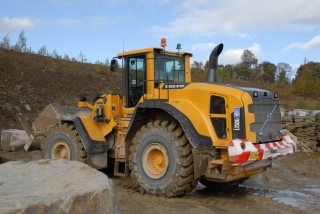 Another important factor in Marshall's decision to purchase the L150G was an assured peace of mind since the machine has been delivered with a full five year repair and maintenance package (Volvo's Gold service agreement package). "Knowing your monthly fixed costs in this 24 hour, 5 days per week application is a real benefit when it comes to forecasting and budgeting," continued Mr Buchan.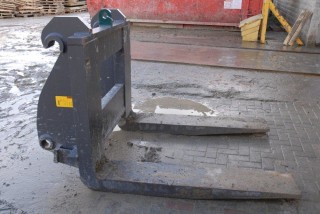 Established in the late 1880s, Marshalls is the UK's leading manufacturer of superior natural stone and innovative concrete hard landscaping products, supplying the construction, home improvement and landscape markets. The Group operates its own quarries and manufacturing sites throughout the UK, including a network of regional service centres and 2 national manufacturing and distribution sites. As a major plc, Marshalls is committed to quality in everything it does, including environmental and ethical best practice and continual improvement in health and safety performance for the benefit of its 2,400 strong workforce.