As part of the company's fleet renewal programme, Champion Groundwork's have replaced eight competitive brand 7.5 ton midi excavators, with eight of Caterpillar's latest 308E machines. This impressive single order was received by W H Bond on their first day as the official Cat compact dealership for Devon & Cornwall.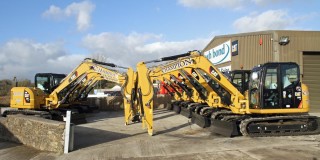 The Cat 308E is proving to be an extremely popular excavator, with many of the compact dealerships reporting significant sales of the model. The 308E is powered by a Cat C3.3 engine which generates 50kw (67hp) and meets the latest IIIB emissions regulations. It has an operating weight of 8,210 kg (18,099 lbs) and can attain a dig depth of 4,724mm. With its compact dimensions and offset boom, the machine is an ideal choice for housing site work.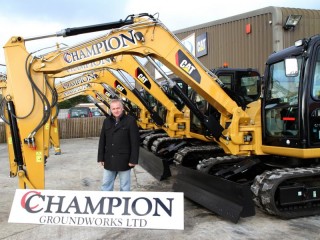 Managing Director Fred Champion, seen above with his latest acquisitions, said "Caterpillar has always been great kit, and W H Bond's have given us a good deal on the machines and trade-ins; as such I had no hesitation in placing the order." Mr Champion himself started out in the game as a machine driver and gained an enviable reputation as a top operator, to this day he still likes to keep his hand in on the machines from time to time. Champion Groundwork's Director Jamie Roberts, also commented "As a company, we are very proud of our machinery fleet, and we are continuing to invest heavily in the latest new machinery." Mr Robert's continued, "On this occasion we are delighted to be dealing with W H Bond in the purchase of the new Cat machines.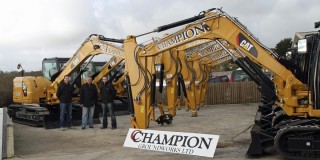 Pictured in the photo above are from left to right, Will Evans, plant salesman W H Bond, Fred Champion, managing director Champion Groundwork's, and Andy Pearce business development manager for W H Bond.