Many of the major plant hire company's must have thousands of disaster photos in their files, especially those who operate in the mainly self drive sector. I know myself, from bitter experience, that things can go wrong when you hire out a machine to someone who doesn't really know what they are doing! During my first venture into plant hire, I ran a brand new Komatsu PC20-8 mini excavator, which I put out on hire to a guy on its first day in service. He was one of those who had been there, done it and got the T Shirt, but within hours he had the machine stuck in a bog, with a track off and the drain tap broken off the bottom of the diesel tank! I promised myself never to do self drive again. Top national hire firm Fork Rent, from Ipswich, posted a couple of photos on Twitter that confirmed my feelings.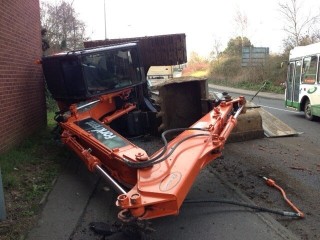 The shot above features one of the company's nearly new Hitachi Zaxis 130LCN's on its side after it struck a low bridge whilst being transported between sites. Sadly this is not an uncommon occurrence globally, as anyone who has trawled in the internet looking for excavators accidents can confirm.
Another common machine to feature in accident shots is the telescopic handler, not that they themselves are dangerous or unstable machines, but in the wrong hands they can be. I know from the many site inductions that I have attended over the years, someone always has a tale to tell about these machines and the fact that they seem to like lying on their sides!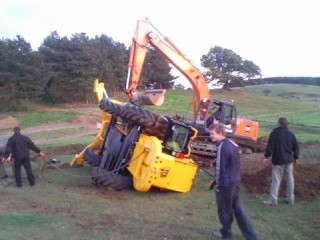 In fact, on many of the sites I currently work on, telescopic handlers seem to be banned from going off road, a situation I find totally bizarre, when you consider they are designed to work on all terrains. The only problem as I see it, is one of operator error and not being aware of the machines limits. Better training has to be the way forward.