Sharp eyed readers may recall Michael sending us photos of a giant snowman that he and the team at SJH Groundworks built last year using a JCB JS130 and a telescopic handler. But this time Michael poses the question why are so many old machines just left in a field or yard to rot away? In this first photo we see an old JCB 820 Powerslide excavator which has obviously been lying there on the farm for some considerable duration. Michael parked his mount, which at the time was a JCB JS130, next to the ageing 820 as a comparison.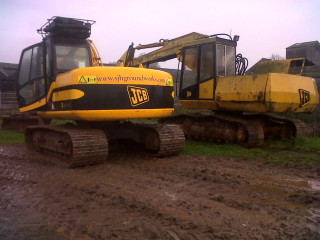 The next machine that Michael came across was this old and rare International E211 Payscraper, which they had to dig around on another farm job. The E211 elevating scraper was originally launched in 1969 and was powered by a 145hp engine. It would have had a capacity of around 11 cubic yards.
When I get to walk amongst these old abandoned machines myself, I can't help but think about how they used to sound, and imagine the roar of the engine, and the power of the hydraulics. I also wonder about how many high profile jobs they may have worked on in the past, and the characters who have operated them during that time!
Here is another excavator that Michael came across, in the form of a Ford H44, with a triple pivot boom. These machines were basically French Richier machines, which after 1972, were badged up and sold as Ford, after they took a controlling interest in the French company. This arrangement only lasted until 1979, when Ford sold its excavator manufacturing arm to another French company, Sambron. The owner of this machine claimed it still runs well, but judging by the photo, it probably hasn't been fired up for some time now.
I personally only ever operated an H42 model briefly during my time with Wimpey Plant, they were ugly brutes, and not easy to get on with, but its regular operator at the time, Terry Tapp, loved it for some reason.
Next up is this old dozer that Michael found while out walking in the woods. It appears to be an old International, but if anyone one with knowledge of these machines can help with a positive identification that would be great!
Another old machine from the JCB stable again now, this 814 Powerslide model is currently lying out of action in a timber yard.

Once again this photo like the others, raises so many questions; why was it originally parked up, did the machine complete its job, did it pay for itself and possibly raise a profit, or maybe it just had a breakdown and the cost of the repair is simply not worth it. When one thinks about the cost of these machines when they were new it seems such a waste.
Here is one of my favourites from the batch that Michael kindly sent in, taken by a friend of his whilst on holiday in Greece. A shot of the all American classic the Caterpillar D9G enjoying the Greek sunshine.
Finally a photo which Michael came across on the web, featuring an early 1990's example of a Caterpillar 5000 series mining excavator which has been abandoned on a hillside near Melbourne, Australia. The 176 ton 5130 entered the market in 1992, before being upgraded to the 5130B in 1997.
It seems incredible that such machines are just left to rot away like this, but if you are out and about and see any old machine feeling abandoned and unloved, we want to hear about them and share your photos with the ever growing Digger Blog readership.
Don't forget you can also keep up to date with the action, by following us on Twitter @TheDiggerBlog. Featuring links to all the latest post's and additional day to day posts and photos from sites where I am working. See you there!
Check out the Construction Index @TCIndex on Twitter too.