This Caterpillar D6M LGP which is clearly in a spot of bother, was snapped by regular reader and contributor Michael Bullock, on a job he was working on in Hereford in 2009. Keen eyed readers might recall that Michael has recently departed from the UK, to spend time "down under" in Australia on a working holiday. Michael, who is currently operating a D6R LGP has promised to send us lots of photos on his adventures in the land of sunshine, I for one am really looking forward to seeing them and sharing them with you all on the blog.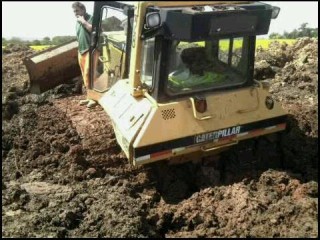 Here's a shot from reader Martin Coss featuring a Hitachi EX200 excavator, which has been performing some uncalled for gymnastics, resulting in a rather nasty looking cab crush, let's hope the operator got out in one piece.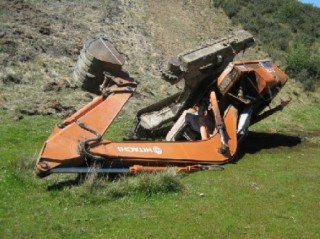 And finally in this selection, another shot from Michael Bullock, showing just what can happen if your haul road collapses from underneath you. This Bell B25D was working on a site in Mid Wales in 2011 when the road gave way and the skip flipped over, nothing unusual in this of course, in fact I must have hundreds of ADT rear skip flip shots on my system, but nevertheless still a scary moment for any operator when it happens to them!
Don't forget if you have any similar shots which you would like to see on the blog, get them sent into me at the usual blog address digger @ theconstructionindex.co.uk. with no gaps.