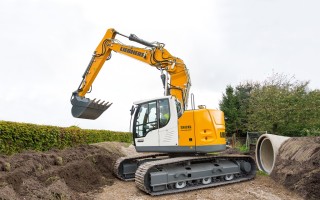 This machine is one of 81 Red Dot winners this year out of a total of 4,928 entries.
Liebherr launched the R926 Compact crawler excavator last year to replace the R924. It weighs approximately 25 tonnes and combines the properties of a standard crawler excavator, such as high performance and versatility, with the advantages of compact machine, Liebherr says. With its compact dimensions, it is well suited for urban deployment. Thanks to the wide scope of equipment and options, it can be configured for all earthmoving, deep foundation and demolition tasks.
Now I am not entirely convinced of the significance of the Red Dot awards. I know they are highly prized in the product design community and they have been around for 60 years. But it is not clear to me whether any of the judges have actually ever even seen an excavator, never mind got into the cab and operated this machine to make any kind of meaningful judgement about its qualities. That is not intended as any kind of criticism of Liebherr. I've not operated the machine either, although I am confident that it's probably pretty damn good. The Red Dots are more about giving the marketing people something to sing and dance about rather than a genuinely considered judgement of a machine's real value. The more you use a machine, the more valid is your assessment of its merits.
Still, better to be a winner than a loser. Liebherr's excavator now lines up in the winners' parade alongside such glitzy automotive products as the Ferrari LaFerrari, the Ferrari FXX K, the Mercedes-AMG GT and… er… the Hyundai i20, the Hyundai Sonata, the Skoda Fabia, the Kia Soul EV and the Kia Sorento.
Other winners from the construction sector this year include Ammann, which got three Red Dots, for its Rammax 1575 remote controlled trench roller, the APH 110-95 plate compactor and the ARX 90 articulated tandem roller.
Also on the list of winners is a British-designed Dutch machine that I had never heard of before – the Diverto QS 100. So I looked it up. It seems that it is designed by Sheffield's DB Industrial Design as one of those Swiss army knife multi-functional machines. It's an excavator, a loader, a tractor and a mower. Here's a picture of it: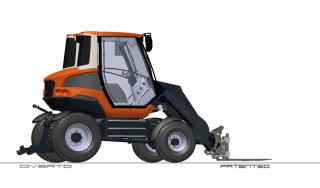 And another one:

This is it mowing a verge:
And chipping wood:
It's easy to see why product designers would admire such a machine. It's a cutie. But only time will tell whether it's really any good or not.