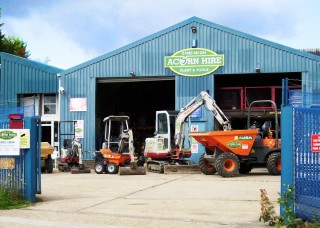 The business was started in 2006 by Andy Glenie who had started his career as a builder. However, his trade was cut short 23 years ago when a serious accident pursing his passion for grass track motor racing left him paralysed.
"As a result, I started out helping my dad refurbish houses and then bought a beaten-up old Pel Job mini excavator and started hiring it out," he says. "The business took off from there and we officially set up Acorn Hire 10 years ago and haven't looked back since."
Very much a family business, Acorn Hire has a team of five taking care of the hire desk, deliveries and collections, equipment maintenance and a consumables shop serving Kent and East Sussex.
Small plant available for non-operated hire includes Takeuchi micro- and mini-excavators (0.8 to 5 tonnes) as well as site dumpers up to 3 tonnes, walk-behind rollers, access platforms and a comprehensive range of scaffold towers.
Acorn has recently also taken delivery of a batch of five compact excavators from Volvo Construction Equipment's utility dealer, the Glosrose Group, based in nearby Aylesford.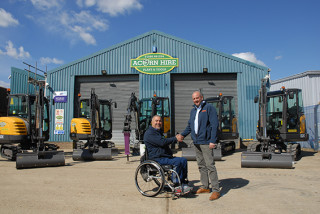 "We liked the look of the Volvo range of equipment and were in the market to replace some of our older equipment," Andy Glenie explains.

A demonstration of both the EC27C and ECR25D was arranged with the dealer. "We asked one of our most important clients to make an objective appraisal of the machines on our behalf and we got a very positive thumbs-up straight away," Mr Glenie says.
With that seal of approval, he placed an order for four conventional EC27Cs and an ECR25D zero swing variant.
The ECR25D is the smallest zero swing model in the Volvo compact excavator range, with an operating weight of 2.5 tonnes and a 1.1 litre engine developing 21hp. It is available with a choice of short or long dipper arm giving a reach of either 4.48 metres or 4.77 metres and a dig depth from 2.67 to 2.96 metres. The 2.7 tonne and slightly larger conventional EC27C is powered by a 1.6 litre engine.