The manoeuvrability is essential in the narrow lanes of Cornwall and it boasts a payload advantage of around 150 kg over the similarly configured Volvo.
Family-owned Burcombe Haulage is based in St Dominick, near Saltash. It was founded by Richard and Maxine Batten more than 30 years ago, and focused initially on providing haulage services to the local agricultural community.
Daughters Carina and Nicola now also play prominent roles in the day-to-day running of a business that has since expanded into numerous other sectors.
These days it offers a broad range of transport services, from construction and road sweeping, to general haulage. It is also a member of TPN, The Pallet Network. Sister company B&C Concrete was formed in 2014, as a joint venture with Champion Groundworks.
The company's first Mercedes-Benz rigids are Arocs 3240s with ClassicSpace M-cabs. As ENA variants, they feature single front steer axles, double-drive bogies and – crucially – trailing and lifting rear-steer axles, which give them significantly improved turning circles compared to a standard 32-tonne eight-wheeler.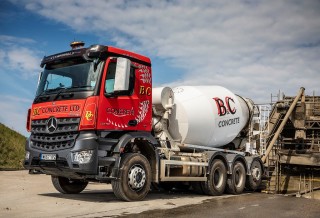 One, which is fitted with a McPhee mixer drum and wears a B&C Concrete livery, entered service in December. It was followed in January by the second, which is in Burcombe Haulage colours. This vehicle has a Charlton-built steel tipping body and is assigned primarily to muckaway duties. Both trucks have 290 kW (400 hp) six-cylinder engines which drive through 12-speed Mercedes PowerShift automated transmissions.

The tipper's cab has the recently introduced 320 mm engine tunnel, so sits six inches lower than its stablemate with 170 mm tunnel. This makes life easier for the driver to maintain three points of contact when climbing up into or down from his seat.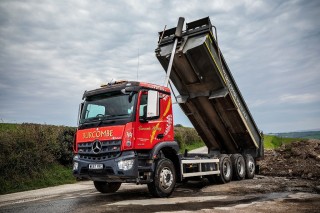 The next Arocs ENA will also be a tipper with lifting, rear-steer axle. However, this will be a 3251 model with more powerful 375 kW (510 hp) straight-six and, because its driver regularly spends nights out in his vehicle, a StreamSpace sleeper cab.
The combined Burcombe Haulage-B&C Concrete fleet runs to around 60 trucks. The company's only other Mercedes-Benz is an Actros tractor unit, which it commissioned in 2011 and which has proved both reliable and cost-effective to operate. An ex-dealer demonstrator, this vehicle pulled a curtainside trailer carrying potatoes for a local chip manufacturer on regular runs to and from Basingstoke, until it was switched a year ago to more local bulk tipping work.
Transport manager Stuart Wilkie says: "We have to access some tight locations in this part of the world. Their steering and lifting back axles effectively give these trucks the same degree of manoeuvrability as a shorter six-wheeler, while allowing us to retain a payload capacity which is only slightly lower than a conventionally configured 8x4 chassis.
"We're also confident that as 32-tonners they will command significantly higher re-sale values than a 26-tonner; it's very difficult, these days, to sell a six-wheeled tipper."