In 1976, Keith's Son, Nick Simpson joined the company and the business was renamed K Simpson and Son and began to add civil engineering works as a major part of its business, which it became well known for. In 1994, Nick became Managing Director, having already worked in the company for 20 years, and re-formed the company into Simpson Civil Engineering Ltd and Simpson Plant Hire Ltd, reinforcing the company's positions as specialists in their fields.
True to the company's forward thinking approach in 2009 a third company Simpson Training Ltd was created, aiming to train the next generation of Construction Workers to a higher standard covering CPCS plant tickets and also other fields such as NRSWA Street works, NVQ's and specialist tickets such as the EU Water and Gas Cards.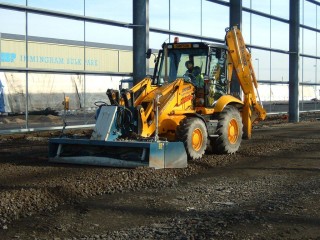 Having started out with a workforce of just 5 in 1945 the company now employs around 62 employees on the civil engineering side of the business after amalgamating with Simpson Plant Hire in 2009, a move which was designed to help the company cope better with the recession.
The company invests heavily in innovation and technology; this also extends to the company's employees and was recognized recently when they gained Investor in People status.
Last year saw the business winning the independent health and safety groups company of the year award for what was described as an outstanding record on site for health and safety.
The company's clients range from local residential and business requirements through to national housing developers, local and national construction companies, and water, gas and environmental companies.
Long term Digger blog reader and contracts manager for Simpson's, Richard Harrison talked to us about the company's emphasis on modern plant techniques and innovations.
"Over the years we have strived to use new and modern ideas to help save our clients and indeed ourselves time and money. We have invested in many new pieces of plant and equipment which include Dig- a- Crusher buckets, Laser Stone Levellers, Screening buckets and Long Reach Excavators."
Richard continued, "Overtime our plant stock has changed considerably, from using wheeled excavators and 360 degree excavators from 18 ton and above, we currently run excavators from 5 ton to 18 ton which are all Case manufactured and are excellent and reliable machines. Some years ago we also ran a Hyundai Robex 210LC-3 which was fitted with a long reach boom."
"We have also recently become involved in Vacuum Excavation, despite many being skeptical of the idea at first we have found it to be an extremely efficient and safe technique for excavating around delicate services etc.
We also run a fleet of three wagons including a 6 wheeled grab wagon and a hot box attachment for our 7.5T wagon, keeping tarmac hot for up to 24hrs."

The company first entered the Dig- a- Crusher market in 2007, when the first model of this award winning product was added to the fleet. Used to crush concrete, brick, rubble and stone this highly manoeuvrable concept is gaining popularity around the world. The bucket can crush up to 0.6m3 at a time and has 550mm x 700mm jaws that will crush almost anything.
Richard comments, "Many of our clients reuse the rubble and crushed concrete as sub-base under concrete slabs or buildings which means cutting tipping costs and installing of stone."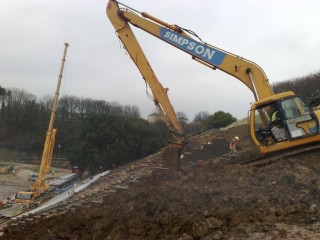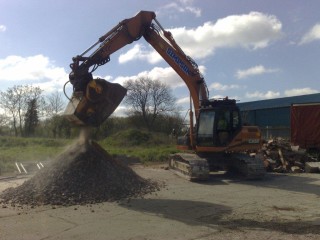 Another innovative piece of kit which is part of Simpson's arsenal is the Laser Stone Leveller which is described as a fast, efficient, and cost effective way of levelling stone for a wide range of applications including roadways, concrete areas, tarmac areas, car parks etc.
Fitted to a backhoe loader the front bucket is guided by a rotating laser and hydraulic actuators adjust a front plate in order to grade the stone to level. On average it is possible to lay 500T per day, levelled and rolled. The company have been employed using the Laser Stone Leveller up and down the country on major jobs including the Millennium Dome and also all weather football pitches for Arsenal and many other Premier Football clubs.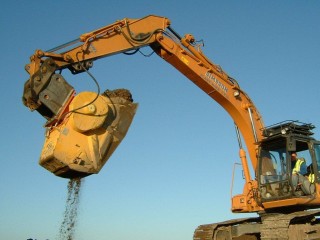 The company's Screening bucket is described by Richard as a "once you have seen it you'll love it" products and it has certainly proved a hit with the company's customer base, Using its twin rotating drums the bucket can be used to screen soil, stone and rubble down to a specific grade size.
Once again due to its fitment to an excavator, the machine is highly mobile on site and once screening is completed the bucket can be quickly removed and the excavator is deployed back to traditional bucket work within minutes.
The company's long reach excavator has been a permanent fixture in the Simpson portfolio for a few years now as stated earlier the first long reach was fitted to a Hyundai 210LC but this machine is now replaced by 21 ton Case machine which is in keeping with the firms preferred supplier for 360 degree excavators. This Case machine has a reach of 15m horizontally and 12m dig depth.
Long reach excavators have been gaining popularity over the last few years and are especially useful when deployed on jobs such as bund work, canal and lake cleaning, sea wall reinforcement, and deep excavation works, saving time and money and indeed making those difficult to reach jobs so much easier.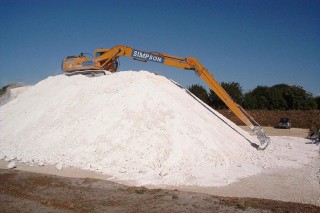 A big thank you to Richard Harrison of Simpson Civil Engineering for talking to us here on the Digger blog.