David, who is now a well established journalist with the UK's number one plant and machinery publication Earthmovers, captured these machines at work in the city's main recreation park.
First up a couple of shots of an unusual 8 ton class Yanmar B7 Sigma machine, which is fitted with the unique "Sigma" style boom. This concept is ideal when working in restricted urban sites and built up areas.
Not only are these machines zero tail swing, but the whole front end equipment can be tucked right in so you can slew 360 degrees within the machines width.
In these photos the operator is placing large concrete slabs using a suction device. In the second shot the machine is lowering the slab in an "over the side" position and as you can see the track is just starting to lift off the ground.

Also notice in these photos, the complete lack of any Hi Vis, hard hats or any PPE at all. Is it only us in the UK that are forced to wear that kind of thing? It certainly seems that way on my travels around the world.
And lastly from David a shot of a compact wheeled loader in this instance a Schaeff model. These machines have always been popular on the continent and you can't travel very far without seeing one in use on a variety of tasks.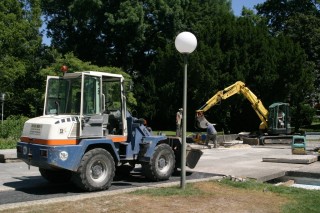 The Digger blog would like to thank David for sharing these photos with us and remember if you are out and about on holiday and you see any machines of interest old or new we would love to see them. Just drop me an email here at the Construction Index.